The long-standing ban on women serving in close-combat fighting roles in the Armed Forces has been lifted first by the RAF Regiment.
Only in 2016 was the decision taken to allow women to join the Army's infantry, the Royal Marines and the Royal Air Force Regiment.
In September 2017 the Royal Air Force was the first of the three Services to recruit women in the close-combat role, as Full-Time Regulars in the RAF Regiment.
From April 1, the RAF Regiment Reserve Squadrons will also accept female recruits, into Part-Time Service.
All personnel in the Armed Forces make a vital contribution to the security of the UK, but this change will ensure that women can contribute across the full spectrum of military specialisations.
The RAF Regiment protects the Royal Air Force on the ground both at home and when deployed around the world on operations.
Here in northern Scotland, Reservists can serve on a Part-Time basis with 2622 Squadron at RAF Lossiemouth.
Personnel train for at least 27 days per year, and are paid the same daily rate as their full-time colleagues.
There is a two-week period of exciting and active training each year held around the UK or abroad, and a training weekend available each month at RAF Lossiemouth.
There is an annual incentive of up to an £1800 lump sum payment for those who complete their training targets.
A positive attitude to keeping fit and a commitment to attending training events are essential. In return the training develops life-skills such as personal organisation, time efficiency, self-discipline and confidence.
Opportunities to develop management and leadership skills as part of a friendly team are also all part of the package.
Life on the Squadron offers unparalleled opportunities for adventure activities in the UK and abroad.
Reservists from 2622 Squadron have completed diving, skiing, winter mountaineering, sailing, mountain-biking, biathlon, and canoeing as far afield as Norway, Germany, South and North America, and of course Cairngorm National Park.
You too can be part of the RAF Reserves in northern Scotland by joining 2622 Squadron at RAF Lossiemouth.
The Squadron is holding a Recruiting Day in Aberdeen, Elgin and Inverness on Saturday 24th March to inform members of the public about the opportunities on offer.
The Armed Forces Careers Offices at Bridge St Inverness, Belmont St Aberdeen, and a pop-up shop in the High St, Elgin will be open 10-4pm on the day.
If you miss this opportunity, call the Squadron on 01343 810776 to find out the date of the next Recruiting Day is, or to arrange a visit to the Squadron at RAF Lossiemouth.
Find out more about 2622 Squadron by:
Phone: (01343) 810-776, the RAF Website , Facebook, Twitter orYouTube.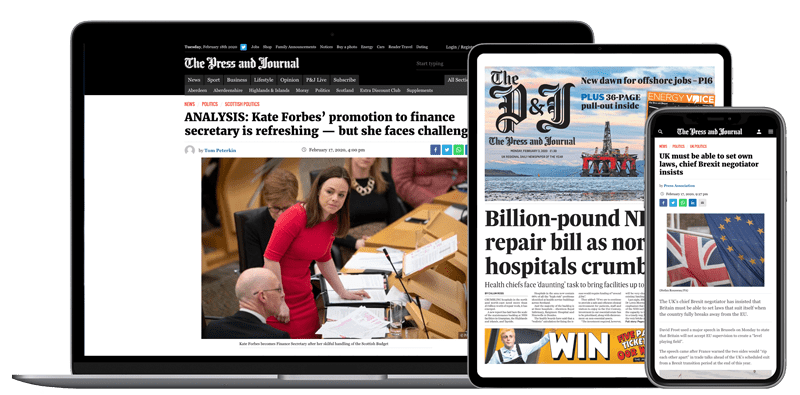 Help support quality local journalism … become a digital subscriber to The Press and Journal
For as little as £5.99 a month you can access all of our content, including Premium articles.
Subscribe