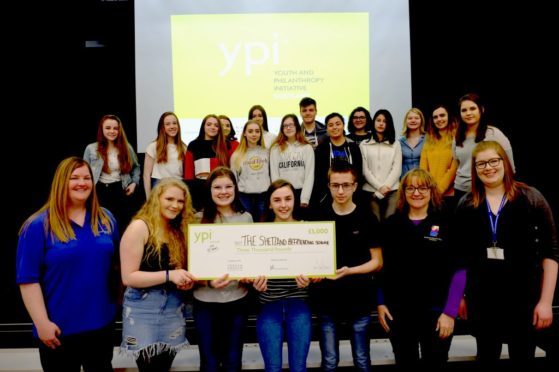 Third year pupils at Anderson High School have determined which charity is to receive a £3000 donation as part of the schools involvement in the Youth Philanthropy Initiative (YPI).
The Shetland Befriending Scheme has come out on top to receive the donation, provided by The Wood Foundation, following extensive competition within the school.
Around 150 third year pupils at Anderson High have been researching and understanding the work of local charities in the community. Fierce competition followed amongst pupils, with each class pitching their idea of which charities should be chosen, before a final list of four charities was compiled.
The work of the Shetland Care Attendant Scheme, Shetland Rape Crisis, Mind Your Head and the Shetland Befriending Scheme were showcased as presentations were delivered to the year group, staff and a panel of judges, before the Shetland Befriending Scheme was announced as the overall winner of the £3000 donation.
Cheryl Cluness, Anderson High School English Teacher said: "This is the second year this YPI project has been run at Anderson High School.
"I'd like to congratulate the Shetland Befriending Scheme and thank all the charities involved for the support and information they have provided to our S3 pupils.
"It's not only helped each student with their research and presentation skills, but has provided them with an insight into the fantastic work of local charities."
The Shetland Befriending Scheme offers a one to one volunteer support service for young adults aged between seven and 18, as well as adults aged 16+ through the provision of activities aimed at improving confidence and other skills.