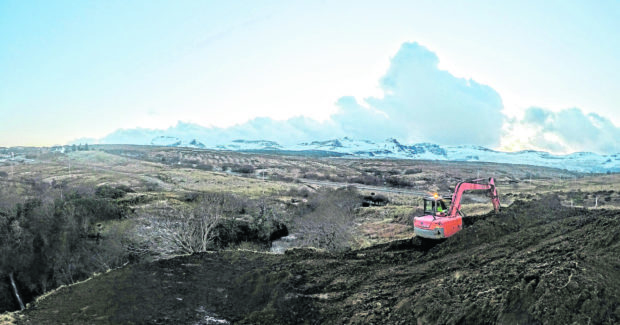 The ambitious construction of a new viewing platform park and car park at a Skye gorge begins today.
Part of a major community-led heritage development, the works at Lealt Gorge in Staffin represents a significant infrastructure investment for the island, which has seen an unprecedented rise in tourists in recent years, putting several scenic spots under serious pressure.
The project is a new phase of Staffin Community Trust's (SCT) Skye Ecomuseum scheme, which also a wide-ranging events programme.
Plans progress for new viewing platform at iconic Skye waterfall
The viewing platform will provide commanding views of two waterfalls, the Trotternish Ridge and across to Wester Ross. A new 20-vehicle car park will also be built.
Geoff Freedman, an award-winning engineer, has designed the steel and timber platform. Based in Lothian, he is the former head of design for buildings and bridges at the Forestry Commission.
Inverness firm MacDonald Contracting, a specialist in erecting timber and steel structures and bridges, will carry out the work.
The firm has worked across Scotland in other sensitive locations, including nature reserves, the Cairngorms National Park and woodlands.
The ecomuseum was first opened in Staffin a decade ago. It is an outdoor museum with 'no walls and a roofless sky' and includes a footpath network across Staffin, interpretation and parking.
SCT believes the sensitively designed attraction will showcase Trotternish's landscape all-year round and help local businesses.
SCT will also build a new 20-space car park to cater for the expected public demand to visit the platform.
An economic report estimated that the Staffin economy would be boosted by an additional visitor spend of £165,000 in the first year of the ecomuseum project's delivery.
SCT chairman Sandy Ogilvie said: "The construction of the new platform and car park at Lealt Falls places this project and the wider developments of the Skye Ecomuseum firmly on the map as both a site and physical experience of national significance."
The current phase of the project has been backed with £668,000 from the Heritage Lottery Fund, Coastal Communities Fund and SSE Sustainable Development.
It means access to the popular site and existing car park, off the A855 Staffin-Portree road, will be closed to the public for four weeks.