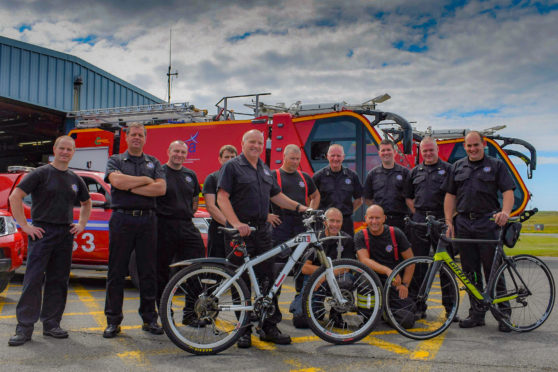 Staff from Stornoway Airport are today taking on a lighthouse-to-lighthouse challenge spanning 84 miles.
The epic journey from Eilean Glas Lighthouse in Scalpay to the Butt of Lewis Lighthouse aims to raise funds for Macmillan Cancer Support and the Western Isles Cancer Care Initiative.
The team of 18 airport staff, compromising of firefighters, air traffic controllers and workers from the helicopter department, will set off at 6.30am from the airport to the start point in Scalpay.
Donald MacMillan, who has organised the event, said: "It all came about with a discussion on a Saturday morning where we all wanted to do something for Macmillan.
"Macmillan did so much to support my mother and us as a family during her battle and everybody here has a family member or friend who has one way or another been affected by cancer.
"We wanted to do something that hasn't been done before."
He added: "Local businesses have been fantastic with their support, whether it be donating food, the use of a local minibus or the local bike shop, who are coming along to offer support on the day in case we have any breakdowns."
The team seeking to complete the challenge in 10 hours or less and raise around £1,500.
Mr MacMillan added: "It wasn't until shortly after we set up the fundraising page that we learnt of the work of the Western Isles Cancer Care Initiative, who help with the underlying costs of cancer. We have seen in my own situation that my father actually gave up work and there was a financial strain due to trips back and forth to the mainland.
"Morale is really good, it is excellent in fact, and we are really looking forward to the challenge, even if slightly nervous.
"We are hoping the Hebridean weather is good to us as we really don't fancy a force 10 blowing in our faces."
He added: "A few of the crew have had some injuries and maybe not clocked as much time training as they would have liked to but we plan to stick together as a team and do it together.
"The support we have been shown from locals has totally blown me away. More or less everybody in the Western Isles has had a connection with the two charities so I think that has been key in seeing the uptake and support we are receiving.
"I would like to say a massive thank you to those who have supported us so far."
Updates are available on the team's Facebook page, Lighthouse2Lighthouse 2018, throughout the day.
TIMELINE
6.30am – The team depart from Stornoway Airport
7.40am – Arrival in Scalpay and the beginning of a short hike to the starting point at the Eilean Glas Lighthouse and back
9am – Return to roadside where the team will begin the charity cycle
11am – Pit stop for lunch at Scaladale prepared by Macmillan nurses
3pm –    Arrival at Callanish Stones where a cup of tea and spot of home baking is being kindly donated by the Callanish Visitor Centre
3.30pm – Photo stop at the Blackhouse village in Carloway
5-6pm – Estimated arrival at the Butt of Lewis Lighthouse marking the completion of the challenge