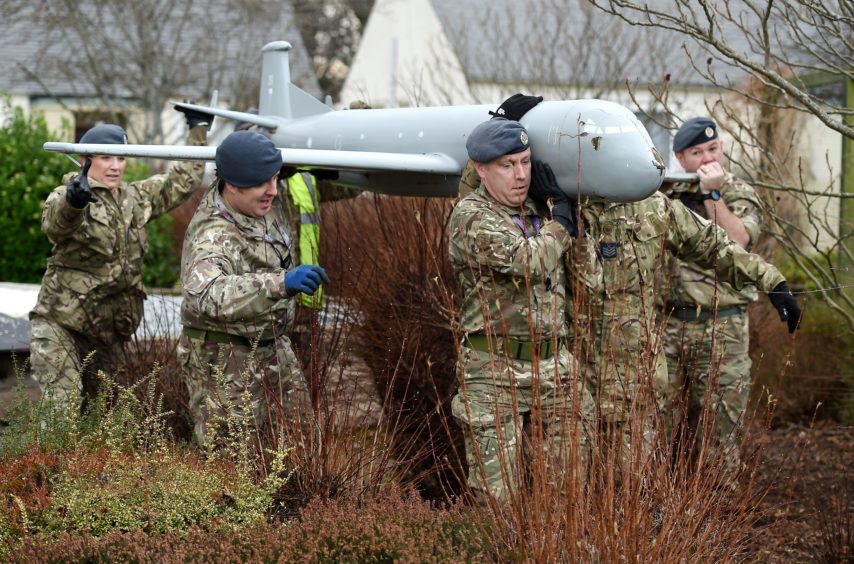 A model of an iconic RAF aircraft that sits in a Forres memorial park has been removed for some much-needed refurbishment.
The Nimrod Maritime Patrol plane is situated in the Veteran's Garden in Roysvale Park and serves as a reminder to the local community of the good relationship between the former RAF Kinloss and Forres.
Nimrods were active in Kinloss all the way up until the RAF base was closed in 2011.
The model, which is made out of wood and steel, has been looking a little worse for wear in recent years and has now been taken away from its position by a group of RAF personnel who have volunteered to get it back in top shape.
It will now be cleaned, stripped, repaired and repainted before it's returned to Forres in a few months time.
Sergeant Andy Holborn is an engineer who will work on the new P-8A maritime patrol aircraft that will be coming to RAF Lossiemouth, and he is coordinating the work with the support of Forres Community Council.
He said: "This Nimrod model is a lovely tribute, but when a colleague noticed it was starting to look a little worse for wear we decided to try to get it fixed.
"With the help of various sections on the station hopefully we'll be able to bring this Nimrod back to its former glory and make it a suitable memorial to the men and women who operated the aircraft from RAF Kinloss."
The model and the garden in Roysvale Park also serves as a memorial to Nimrod personnel who have died in service.
Moray MP Douglas Ross attended the removal and hailed the importance of having a reminder of the importance of the armed forces in the town.
He said: "The Nimrod provides a very suitable centrepiece which reminds us of the service of the many generations who served on them while based at RAF Kinloss.
"The model Nimrod has been showing some signs of weather damage and it's good that the RAF have agreed to restore it to its former glory.
"This is an important local landmark and memorial and I look forward to seeing it when it returns, fully refurbished, to its rightful place."