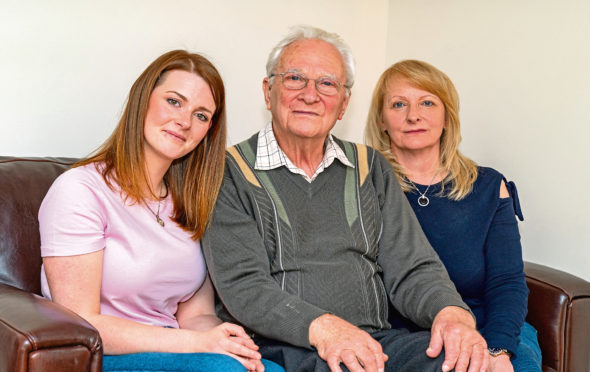 In my day – normally a phrase reserved for reminiscing, or perhaps used to make a point to a sullen youngster.
From technology to fashion, how much has truly changed and which generation had it better?
Are the youngsters of today spoiled millennials who don't know how to mend and make do, and were our grandmothers faced with a lack of opportunities?
Here, three generations from three families look back and try to decide who truly experienced the glory days.
Grandmother: Evelyn Murray, 78, Aberdeen
Daughter: Pearl Williamson, 58, Aberdeen
Granddaughter: Kirstin Williamson, 21, Aberdeen
Play time
Evelyn: "I think my childhood was different to that of my friends; my parents were very strict.
"My mother was 30 when I was born so she was considered an older mother; most people had children at 20.
"She was very strict, I had to be home and in bed by 7pm."
Pearl: "I had a lot of freedom growing up, and the farm was like a playground to us.
"We got to bide out and we'd disappear on our bikes for hours, and my parents had saved up for weeks on end for those bikes.
"A neighbour might spot us and say wasn't it time we were going home.
"There were no mobile phones, and that was normal.
"We'd play games like kick a tinnie, which was basically hide and seek with football."
Kirstin: "I didn't think my parents were overly strict, but I knew there were boundaries.
"Sometimes me and my friends would try and sneak out."
Meal times
Evelyn: "When I was growing up, World War Two had just finished, so the whole country was in poverty really.
"I remember trying my first banana and I was amazed, I had never even seen a banana before.
"And there was the time my father came home with an egg, he boiled it with soldiers.
"I took one look and refused to eat it."
Pearl: "We had traditional meals like mince and tatties, and I still do stuff like that today.
"My dad would cook it for us with a recipe which used oatmeal, and we'd have macaroni cheese.
"I make a lot of soups, and that probably stems from my childhood.
"I don't waste anything either, it's how I was raised."
Kistin: "My mum is an amazing cook and after leaving for university, I really missed her home-cooked meals.
"You can't beat her mince and tatties."
School and careers
Evelyn: "When I left school, we weren't really allowed to choose a career.
"If your parents were professionals, doctors for example, then you went into secretarial work.
"But if your father was a common ground sweeper, you had no chance.
"You were destined for life in domestic service; the best you could hope for is that you'd be someone's wife.
"I was quite clever, but I was never given the chance to go into office work.
"By the time I was 22, I had two kids.
"I got married at 18 and I had my first daughter, Pearl, at 19.
"There no was no such thing as antenatal care, and I can remember feeling very lonely because we lived out on a farm.
"If you had a problem, you rang the district nurse.
"I didn't go to see the doctor until I was about seven months pregnant, and that was normal.
"My experience living in the country would have been very different from that of a 'toonser'.
"If there was a job on the farm which needed doing, I just got on and did it.
"A wife was just expected to look after the children in the town.
"Women today have far greater opportunity."
Pearl: "I certainly had more opportunities than mum did.
"The big difference I see is that in my day, there wasn't a pressure to return to work after having children.
"Some women did, but mortgages were much lower so we had the choice to stay at home."
Kirtsin: "The majority of people I know, including myself, went to university.
"There was a huge focus on it at school, it's the done thing.
"I don't know anyone with children, we're too busy with our careers.
"I'm moving to Glasgow for a job; my granny would never have had that option."
Fashion
Evelyn: "There wasn't much money left for clothes, it was mend and make do. When I went out with my father, I had to look perfect mind.
"I can remember that so clearly, white socks and a white shirt and blazer.
You would never dream of going to church without a hat on, you had to look your best."
Pearl: "I wasn't really a follower of fashion, but people were mad for The Bay City Rollers.
"Kids at school wore tartan trousers because we didn't have a uniform, and I can remember my dad bringing home a jumper with stars on it.
"That was a special treat."
Kirstin: "I had hand-me-downs when I was a child, but I was never really aware of it.
"Now there is a lot of pressure to wear the latest fashion, and you wouldn't upload a picture to social media where you're wearing the same outfit a lot."
Technology
Evelyn: "We live in a throwaway society, whereas I still tend to mend and make do.
"That was the way things were and I've always been very careful with money.
"I can still remember my first washing machine.
"It was bottle green and you had to turn a handle repeatedly, so it wasn't much different to washing by hand."
Pearl: "I can see the benefits of technology, but I grew up with a house phone which my parents put a padlock on, because we were always trying to ring our friends."
Kirstin: "I've grown up with technology, my phone is always in my hand.
"Growing up, there was a computer and we'd use MSN and Myspace.
"It's just part of everyday life.
"Everybody will have an opinion on you, and it has been made so much worse by social media.
"Youngsters are more depressed and anxious than ever before, and there is so much pressure to look good and have the latest clothes.
"I would never leave the house without make up on, and my phone is filled with hundreds of pictures.
"It's all in a bid to get just one image to put on Instagram, and then I spend hours choosing the right filter and thinking of the perfect caption.
"That's what it's like for people my age."
Grandmother: Alice Morrison, 84, Inverness
Daughter: Susan Welsh, 60, Inverness
Granddaughter: Catherine Welsh, 27, Inverness
Play time
Alice: "Streets were relatively car-free so long-rope skipping was perfectly safe, in fact mums sometimes joined in by turning the ropes.
"The norm was to play games in the street with pals and only come in when called.
"Backyard concerts were quite the thing, and we'd try to copy Mickey Rooney and Judy Garland."
Susan: "Watching TV wasn't encouraged, and we'd play outside until rumbly tums let us know it was time to go home.
"Looking back we had a lot of freedom.
"We'd play hide and seek and kick the can; the boys played 'war' and built go-carts using old pram wheels.
"We were allowed to go on long hikes and bike rides ourselves, so long as we were home for tea.
"It was drilled into us to be polite, be tidy and never call an adult by their first name."
Catherine: "I grew up in Portlethen, which at the time had the highest proportion of under-fives per head in Europe.
"There were literally hundreds of kids to play with and we played in the park and on the street, games such as kerby or water balloon fights."
Meal times
Alice: "I was brought up at a time of rationing and it was difficult to make ends meet.
"Contrary to most people I loved the 'dried eggs' and made omelettes.
"I was lucky as my mother was a baker/confectioner and an excellent cook, while my dad had an allotment and grew vegetables.
"Mince and tatties was my favourite meal; chicken was only served at Christmas and for an evening treat we'd sometimes have dulse (seaweed) doused with vinegar."
Susan: "Salty porridge.
"Warm school milk.
"Big spoonfuls of malt and caster oil to keep us healthy.
"Treble yuck.
"Mum was a great cook but I loved it when space-age food such as Angel Delight and Smash came on the scene.
"I thought the future would feature hydrated food and flavour pills and real food would be consigned to history.
"I've very glad I was wrong."
Catherine: "I loved turkey dinosaurs but I'd only get them on special occasions.
"Mum became a single mother when I was young, but I don't remember noticing a difference in terms of mealtimes as she'd buy reduced-priced items to make ends meet."
School and careers
Alice: "All of my contemporaries were expected to leave school as soon as possible and get a job.
"I wanted to be a shorthand secretary and left school at 15 then spent a year at the Commercial College in Aberdeen.
"Lots of pals who were clever enough to go to university didn't go as the cost effectively barred those from working-class backgrounds, unless they got a bursary."
Susan: "While I loved some subjects such as English and history, I couldn't wait to leave school so left aged 16.
"Only those who were very bright and wanted to be doctors, lawyers etc, were encouraged to apply for university."
"I got a job as junior secretary and almost immediately realised I needed to improve, so had to pay for evening classes.
"What an idiot!"
Catherine: "School definitely forced university upon us and we weren't really offered other options.
"Higher education is fine, but back then I didn't know what I wanted to do."
Fashion
Alice: "Fashion did not play a big part in my life as clothes were rationed and altered as I grew bigger.
"Everyone had one good set of clothes kept for Sundays or special occasions only.
"Fashion 'trends' didn't exist until after the war and the introduction of the longer hemline which was a reaction to the austere war-time styles."
Susan: "Oh how I wanted to be fashionable, but never was.
"My mother was very stylish, and always dressed in the latest 60s fashions, but she considered these too grown up for me so it was sensible Clark's shoes, cord breeks and absolutely no make-up until my late teens."
Catherine: "There was a lot of pressure to wear the latest thing or have a designer bag.
"I didn't want to play that game and at the same time was encouraged to make clothes last.
"I still don't follow fashion trends and prefer to find clothes that suit my shape and style rather than something that everyone else is wearing."
Technology
Alice: "I had it easy compared to previous generations who had to struggle with shortages during the war I grew up in an era without washing machines, fridges or a deep freeze so shopping was necessary almost daily.
"The weekly wash took a full day followed by another day ironing and patching."
Susan: "I remember the excitement of getting a colour telly and an automatic washing machine.
"We put the first load of washing on and just stared at it going round."
Catherine: "Growing up it felt very much a throw-away society as people were into fast fashion and continually upgrading things such as mobile phones and TVs.
"But I think now my generation chooses to buy from shops and companies that are honest and ethical and aware of the impact their choices make."
Grandfather: Bernard Brown, 83, Buckie
Daughter: Ruth Downie, 58, Buckie
Granddaughter: Natalea Gardiner, 32, Buckie
PLAY TIME
Bernard:"I can still remember the signature tune to It's That Man Again, with Tommy Handley, which we listened to on the wireless.
"I grew up in the war years and there were so many exciting things to explore.
"One time me and my brother got our bicycles, and off we cycled with a tent and pans.
"We camped out on a farm miles away from home, and our mum had agreed to this.
"These days it would be called wild camping, but back then, it was just camping.
"Or we'd cycle up to the back of lorries and hang on, that way we could hitch a lift.
"It really was another world back then."
Ruth: "I played french skipping, or we'd put a tennis ball in a stocking and swing it this way and that.
"Once we made a den and it turned out the material we'd found was fibre glass.
"I couldn't work out why I was itching so much."
Natalea: "A lot of my childhood was spent outside, we'd play on the farm and do jobs for pocket money so we could go to the sweetie shop.
"Stuff like FIFA (on the Playstation) was just coming out but it was rare we got to play it, we were always encouraged to go outside."
MEAL TIMES
Bernard: "My father died when I was seven, and there must have been times when my mum was really desperate for money.
"We never went hungry though, and I ate whatever was put in front of me except prunes.
"If there was meat it would be stewing steak, and lamb was a real treat.
"I remember one Christmas Day there was a white loaf on the table, and that was amazing.
"Bread was normally brown and coarse, but my uncle was a baker and had managed to keep a sack of white flour."
Ruth: "I remember when golden nuggets came out and there was a big occasion of going to get them.
"Only when I tried them for the first time, I didn't like them.
"Packet food was very exciting to me. Meal times was always family time in our house."
Natalea: "I grew up with mince and tatties, and roast dinner on a Sunday with a fine pudding.
"I remember getting upset because mum never got Pot Noodles, and if we were at grannie's, we'd have plates of broth.
"It was real home cooking."
SCHOOL AND CAREERS
Bernard: "My mum's side of the family was fanatical about education and going to grammar school.
"I was never academic though and I failed the 11 plus.
"I ended up going to a minor public school where I boarded, but I left with few qualifications.
"It didn't hold me back though, and I went on to do work for Heinz soup as a writer for their in-house magazine.
"I was friends with a lot of arty type people and I remember them talking about this man called Wilfred Owen.
"I had no clue who he was so off I went and got his poems, I still have that book today."
Ruth: "A few people went to university, but I just wanted to leave school.
"I went to college and trained as a nurse, I did lots of different jobs over the years but I made sure that work always fitted in with family."
Natalea: "A lot of my friends were really academic, so they went to university.
"I'd been doing odd little jobs since I was 13, and academia wasn't really for me.
"I wanted to find a job I loved though, that has always really mattered."
FASHION
Bernard: "Two words, Duffle coats!
"As I was the youngest, most of my clothes were hand-me-downs."
Ruth: "Cheesecloth was the thing to wear, and bell-bottom jeans.
"People followed The Bay City Rollers, and then there was shoulder pads and leg warmers.
"Fake tan and nails weren't a thing, but you had to have your hair permed.
"I can remember these big wedges as well, I couldn't walk properly in them but as I'm not very tall, they came in handy."
Natalea: "I loved pop music and I grew up with The Spice Girls and Take That.
"So we'd look at what we had in the wardrobe and try and copy the look.
TECHNOLOGY
Bernard: "What technology?
"I think things like social media has a lot to answer for, all these mental health problems weren't really a thing in my day.
"We had bigger things to worry about, like Hitler.
"We were the only family in the street to have a car, and it was only used in emergencies.
"I used to pick Natalea up from school in a Volvo 240 which she hated, and these days people don't rely on the bus."
Ruth: "I hope people wake up and realise how unhealthy social media is.
"There's nothing wrong with turning your phone off for a few hours; I find technology quite soul destroying. We coped without Facebook when I was growing up, and there was no pinging of phones."
Natalea: "Obviously I use social media but I don't agree with putting your whole life on there.
"I think it can be a really negative platform, although it enables me to keep in touch with friends and family around the world."
Which generation do you think had it best? Let us know by emailing yourlife@ajl.co.uk