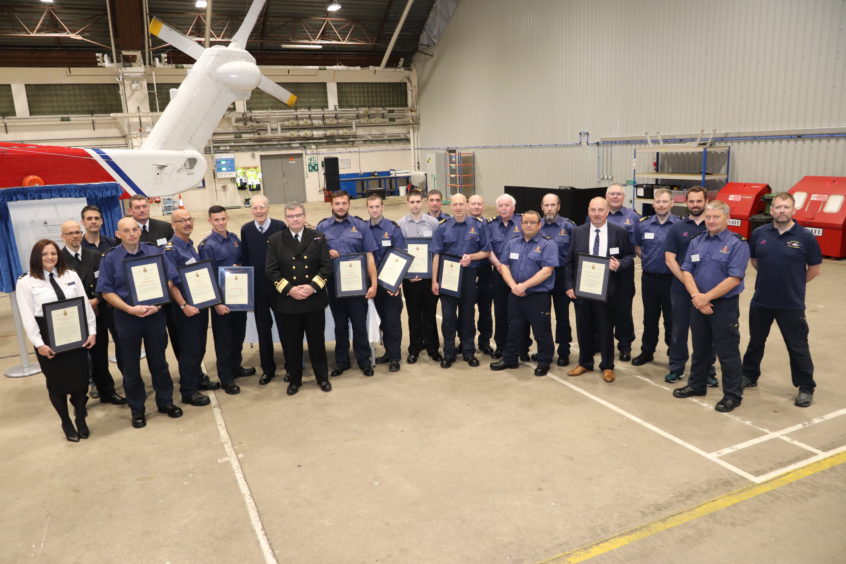 The Coastguard's helicopter team in the Western Isles has marked more than three decades of life-saving work by highlighting some daring rescues.
The team's dramatic rescue missions were highlighted during a ceremony where staff were presented with the Department for Transport's Rescue Shield Award.
Last June, Coastguard teams and the helicopter crew from Stornoway worked together to save an elderly man who was clinging onto a cliff edge on St Kilda.
The crew were called after the man was spotted in one of the most remote parts of the UK, having slipped and fallen some 30 hours earlier.
When the helicopter arrived, the man was in an extremely precarious position with a 200ft sheer drop below him.
Winching him onto the helicopter wasn't an option, and time was of the essence as the man was weak and could have lost his grip at any second.
Coastguard rope technicians jumped into action and were able to bring him to safety.
The Rescue Shield Award, which specifically recognises that lives would have been lost if not for such heroic actions, was shared with Shetland Coastguard teams, Coastguard Operation Centre staff and the Sumburgh helicopter base crew.
Working together, they were able to save the life of a young man who had become stranded at the base of the sheer cliffs at Fethaland, on the northern tip of Shetland last May.
He had found himself perched on rocks in the dark, in deteriorating weather conditions and with no way of getting himself to safety.
A specialist rope technician descended 80ft into the dark, while being battered by strong winds and incoming waves to save the man's life.
1
For as little as £5.99 a month you can access all of our content, including Premium articles.
Subscribe