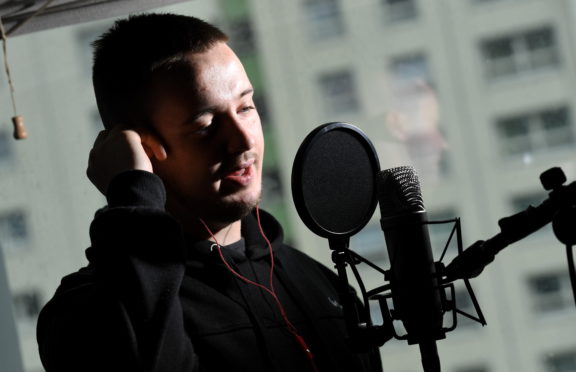 "Life as a musician and a single dad can be tumultuous, a bit up and down.
"It's harder for folk that aren't middle class, there's not that safety net. I'm on Universal Credit, but I'm always looking to run workshops, in prisons and schools and that. This month I've earned money through doing workshops in schools, so I won't get any money next month. It's a stress."
Aberdeen rapper Jack Hughes – who performs under the name Jackill – is about to release his first full-length album, five years after his first demo came out. It has not been an easy road. But then his hard-bitten, socially-conscious hip-hop is all about the struggle.
We were in Jack's living room, in one of the city's high-rise tower blocks. I was there to learn about Jack's debut album, A Day With The Jackal, but also to disperse my haar-thick ignorance on Scottish rap, and hip-hop culture in general.
My first question was simple: how "Scottish" can rap ever be?
"Rap is just another form of poetry," Jack explained. "There's been world-class poets for centuries fae Scotland, fae the north-east in particular. You know, the Doric poets an that. Rap's just an evolution of that same thing, folk talking a voice. You know, if Rabbie Burns was around the day, he'd be a rapper. He was really conscious of his place. That's what it's about.
"You've got to try and come from a conscious angle. You've got to be aware of your surroundings, and try and spark people's minds about different subjects. Rapping is such a direct way of communicating social commentary, of talking about your part of the world and in doing so gives people a chance to positively change it."
Rap emerged initially for Jack as a sort of therapy. As his family fell apart and bounced between various schemes in the city, Garthdee, Northfield, Mastrick, with the standard surrounds of drug abuse, stress and poverty these areas provide, there was quite a lot to process.
"Writing stuff down really helped me deal with things, getting things off ma chest. A catharsis. It was a bit of a mad childhood and rapping definitely helped that."
Jack might not have thrived at school, but it was clear where his bright mind was nurtured. His flat is littered with literary classics and thought-provoking reads. Catcher in the Rye lay in a loose book mound alongside work by Nikola Tesla, the Serbian physicist and thinker.
"I was a bookworm growing up," he explained. "I'd read everything, things like George Orwell and Bill Hicks really helped me open up ma eyes to a different way of expressing masel."
As rap and hip-hop has given Jack a voice and a cultural identity, so he wants to share it with others. To that end, he runs school workshops and for two years ran a series of rap and hip-hop workshops in HMP Grampian in Peterhead, helping inmates find a voice through the medium.
Whilst prisoners – and children in lower-achieving schools – might be put off by certain art forms, rap and hip-hop have none of the bourgeoisie barriers of instrument costs, perceived cultural snobbery or tutor fees.
"One thing I've noticed working in prisons and schools is that rap works really well for people from disadvantaged backgrounds, it speaks directly to people from working-class backgrounds, it's a direct voice for people that can feel like they don't have a voice."
With this in mind, it's no surprise that Jack's city features heavily throughout the album. The album opens up with a track called Halfways to the Highlands, which Jack describes as "an ode to Aberdeen".
The gaping income gap that typifies the city features heavily: "That's one of the themes running through the whole album. The disparity between the rich and poor. People on the outside see the oil wealth and see it as an affluent city, but they don't see the foodbanks, with people driving past in half million-pound cars. I mind being really resentful about that as a teen. So that inequality comes through on the album."
The album has been a long time in the making. The first tracks on it were penned when he was just 19. He is now 24.
"I've had that much going on with this wee one [his two-year-old, Georgia], relationships breaking down, moving hooses all the time… it's been difficult to get it finished. But it's too good not to do properly. It was worth taking the time."
For all the difficulties, Jack feels like he has found momentum, and found his calling.
"It's 100% ma career now," he explained. "It's how I spend ma time. I won't make ma money just off music, but community work, youth work, that sort of stuff. There's a whole thought process, a culture that hip-hop gives you, it's a lens to view the world through. And community, authenticity and self-expression are right at the heart of that. So aye, it's ma life now, ma career."
A Day With The Jackal is released on July 26 and will be available on all streaming sites, as well as on a limited-edition CD run. Check out some of his tracks here.