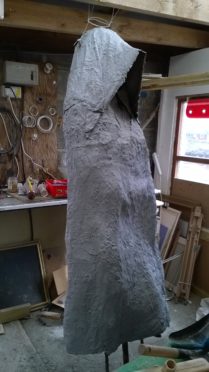 A sculpture depicting a famous Shetland ghost is to be erected alongside a loch on the remote island of Unst as a tourist attraction.
Artist Eric Burgess-Ray has created the spectral woman to stand near the spot where she is said to have drowned some time in the distant past.
Known as The White Wife of Watlee, the ghost – according to local folklore – is said to be looking for her lost son, and appears in the passenger seats of red cars being driven in the area by men.
She vanishes only when they are clear of the loch shoreline.
Mr Burgess-Ray, originally from Leicestershire, but an Unst resident for some years, developed the idea after telling local planners that the statue would be good for tourism.
Now he has full planning approval and is awaiting construction of a concrete plinth.
He said: "On Unst there is a Loch Watlee, between Baltasound and Uyeasound.
"It is said that an old woman stands at the side of the road that runs near the loch, looking for her son.
"She supposedly drowned herself in the loch. When she sees a red car driven by a man, she sometimes will appear in his passenger seat until he is clear of the loch area.
"Knowing how interesting this statue would be to tourists, I chose a site at the side of the road that has ground able to take parked cars, as no doubt people will stop to photograph her. Because of our wild winter weather, I've built her with concrete.
"I'm now waiting for the Unst Community Council to find a contractor to put down a concrete base to stand her on."
The life-size sculpture will serve as a permanent depiction of a tale which has been part of Unst life for generations.
The northernmost populated island in Britain, Unst has about 600 residents in several traditional occupations, including crofting, fishing, craftwork and tourism.