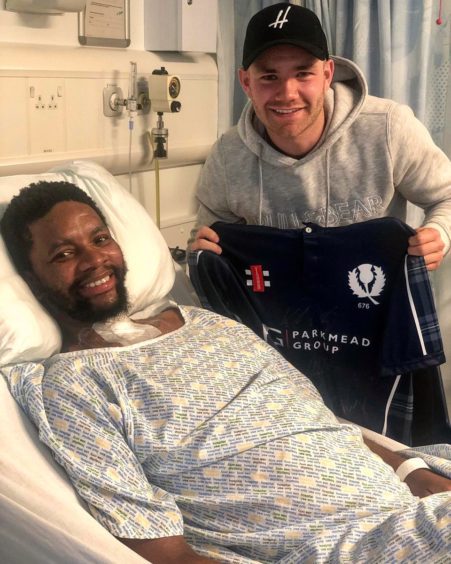 It was a story which started with a young visitor to Aberdeen being put on a life support machine after succumbing to a rare illness.
But now, after a six-month recovery period, Solo Nqweni, the Aberdeenshire cricketer who was diagnosed with Guillain-Barre syndrome last July, is returning to his family.
He will soon be reunited with his baby son in South Africa later this month after gaining significant help from a private donor.
Earlier this week, his family and friends launched a crowdfunding campaign to raise nearly £85,000 to pay for the air ambulance and medical support needed to convey the 26-year-old from Aberdeen to Johannesburg.
But yesterday, it emerged he will be able to make the journey home much sooner than expected, following the intervention of the private benefactor.
Mr Nqweni's family have been overwhelmed by the generous gesture and have now halted the Go Fund Me campaign, while thanking everybody responsible for the "wonderful" news.
They said: "Solo and the entire Nqweni family wish to sincerely thank each and every person who has donated, or shared links on Facebook, Twitter and Instagram or read about Solo's story in the newspapers.
"We are truly touched by the overwhelming support because this news would not have been achieved so soon without it.
"We are eternally grateful for the kindness and generosity of spirit that has been shown by so many people.
"Aberdeenshire Cricket Club, Cricket South Africa and the incredible medical team at Aberdeen Royal Infirmary have provided Solo with such wonderful support and their efforts cannot be overstated. God bless you all."
Robert Humphries at World Sports Exchange, the organisation which brought Mr Nqweni to Aberdeenshire last April, said he could hardly believe the scale of the response as the player fought GBS, first in intensive care, then at the Neuro ward.
While in hospital, he was visited by Ben Stokes, who won the BBC Sports Personality of the Year award at the P&J Live last month, and received a signed Scotland shirt from international player Matthew Cross, who began his career at Mannofield.
Mr Humphries also thanked the Press and Journal for "helping spread his story and ensuring people knew what this terrific young man has gone through".
He added: "Now, we can't wait to see him get back on the playing field as soon as possible."