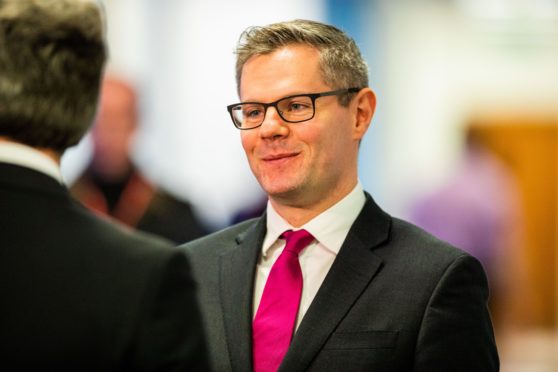 Ex-Scottish Government finance minister Derek Mackay is unlikely to face criminal charges for bombarding a 16-year-old boy with messages on social media.
A Crown Office spokesman confirmed on Monday no report has been submitted to them regarding the matter by Police Scotland.
Mackay, 42, resigned just hours before he was due to deliver the Scottish Government's budget earlier this month after details of his texts to the boy were made public.
The Daily Record claimed Police Scotland has consulted the Crown Office but it was decided no crime has actually been committed.
A source quoted by the tabloid said: "It was felt the trail of messages itself was inappropriate given the imbalance in power and the difference in age between the two parties.
"The messages were not highly ­sexualised and, in any case, the boy was 16 and of age. But consideration was given as to whether the messages could have caused fear and alarm or distress.
"Could there have been an aggravated breach of the peace or would some sort of sexual aggravation or grooming charge be justified? But all things considered, the consensus was that the threshold of criminality had not been reached."
A Crown Office spokesman said: "We haven't received a report so it would be a police matter at this stage."
A Police Scotland spokesman said: "We have not received any complaint of criminality, however, we are currently assessing available information."
Mr Mackay stood down as finance secretary the night before he was due to deliver his budget.
He is also facing growing calls to stand down as an MSP.