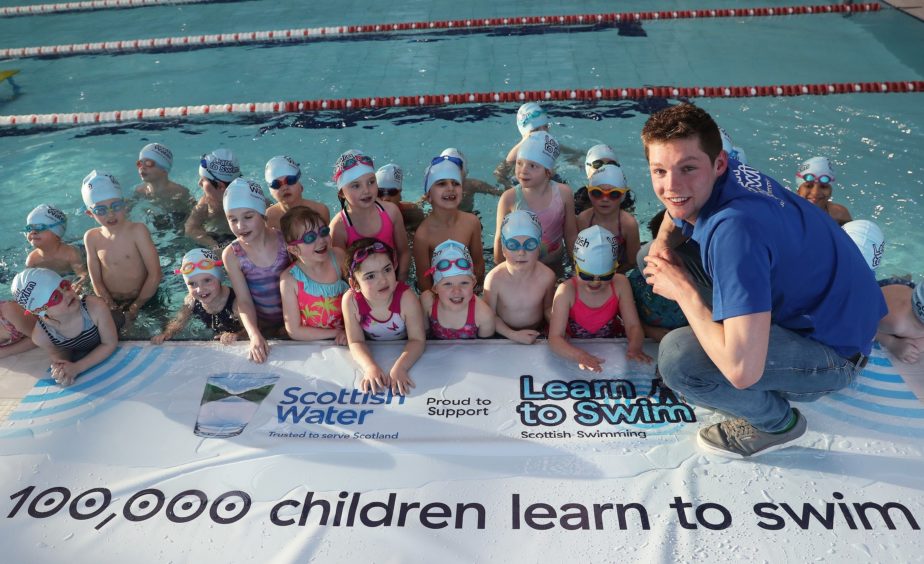 MORE than 11,000 Aberdeen children are making a splash thanks to a successful partnership between Scottish Swimming, Scottish Water and a wide range of local aquatic facilities.
Children from across the city  – some as young as babies – have signed up to the Learn to Swim programme to create a new generation of safe and confident swimmers.
Lessons have been run by Sport Aberdeen, Aberdeen Sports Village and Aberdeen Amateur Swimming Club at 12 different venues, which has allowed 11,306 kids to come through the programme in the last three years.
Across Scotland, 39 leisure trusts and aquatic providers, covering more than 170 pools, have provided lessons to 106,000 kids during the period, smashing the target of reaching 100,000 three months ahead of schedule.
Scottish swimming star, Duncan Scott, the programme's ambassador, who is in the midst of training for Olympic trials, praised the success of the partnership.
Mr Scott, a multi Olympic, world, Commonwealth and European medal winner, said: "As someone who loves beating records, it is amazing to see that the programme has not only reached its target – it has smashed it.
"Getting children into the pool so that they can have fun while learning how to stay safe is the number one priority. It would be amazing to see children become interested in taking a love for swimming further.
"Whether they simply become regulars at the pool with their friends or whether this inspires the next generation of competitive swimmers who could one day represent Scotland or GB at the Olympics, nothing but good things can come from encouraging more and more children into the water."
Dianne Breen, coached programmes manager at Sport Aberdeen, said: "The scheme, which is delivered by Aquatics Aberdeen, part of registered charity Sport Aberdeen, is now widely recognised within the city as a high-quality initiative and is a key component of the sustained growth in our Learn To Swim programme that has been in place since signing up to the scheme.
Euan Lowe, Scottish Swimming's chief executive, said: "When we set the ambitious 100,000 target three years ago, we were unsure when we would reach it.
"So, to achieve this ahead of the deadline – and some 6% ahead of target – is a terrific achievement and one that everyone connected with the programme should be proud of.
"It is thrilling to see our common goals of equipping children with the skills they need to be safe in and around water are really starting to have an impact."
Further information and details on how to get in touch with Aberdeen Learn to Swim can be found at: 
https://aberdeenlts.org.uk