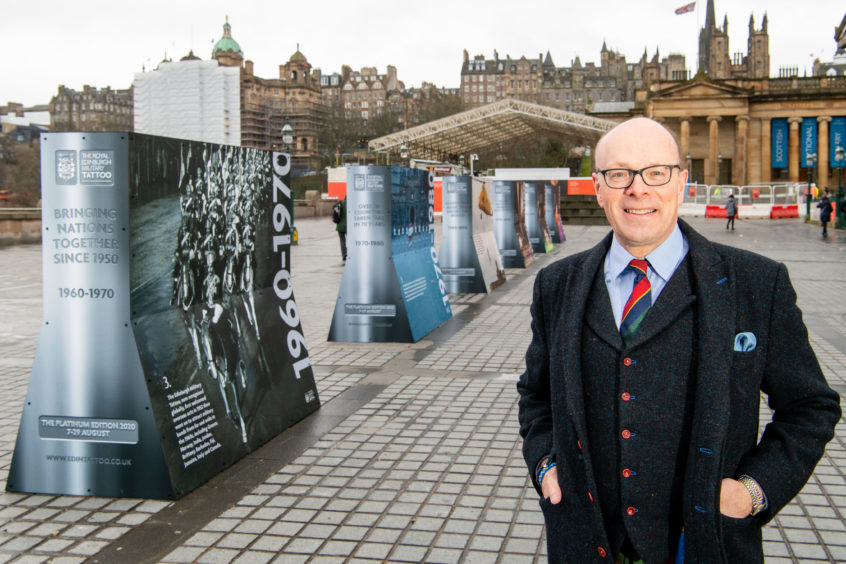 The world-famous Royal Edinburgh Military Tattoo will celebrate its 70th anniversary in August.
And its organisers have decided to mark the occasion by assembling a special showcase of photographs and memorabilia from its illustrious history.
First held in 1950, the spectacular event brings hundreds of musicians from military bands to Edinburgh every year.
The celebration, which features military tattoos performed by the British Armed Forces, Commonwealth and international military bands, has become one of the highlights of the Scottish cultural calendar.
And now, for its platinum anniversary, a free outdoor photography exhibition has opened in Edinburgh city centre, highlighting a vast collection of rare photographs which have been taken in the last seven decades.
The display, located next to the Scottish National Gallery, was unveiled by the Tattoo's chief executive and producer Brigadier David Allfrey MBE.
He said: "Edinburgh is our home and our heartland, and we want to mark our historic anniversary along the parallel development of the City of Edinburgh and its style and values.
"A dive into our archives is allowing us to showcase the gentle evolution of the show and some of our most memorable moments.
"Our audience has grown from a largely local 100,000 in 1950 to a more international 220,000 today.
"Nowadays, we host visitors from over 100 countries each year. Everyone is keen to come to Edinburgh and share in our story. This has been a wonderful journey."
The photography exhibition will also tell the stories of famous guests and performances from over the years, and show images of souvenir brochures from the past.
Mr Allfrey added: "We are very proud of our pedigree, and we will be reflecting this and Scotland's Year of Coast and Waters in this year's show – The Platinum Edition.
"As ever, just as we did in 1950, we will perform on the esplanade of Edinburgh Castle, one of the most iconic stages in the world.
"I hope very much that visitors and residents alike might take a few moments to pass through the exhibition and get a sense of their Tattoo and its story."
This year's festivities will welcome a cast of more than 1,200 international performers as well as a rich array of talent from the UK.
Further details will be revealed closer to August.
The photography exhibition next to the National Gallery will run until March 29, and is free to attend.