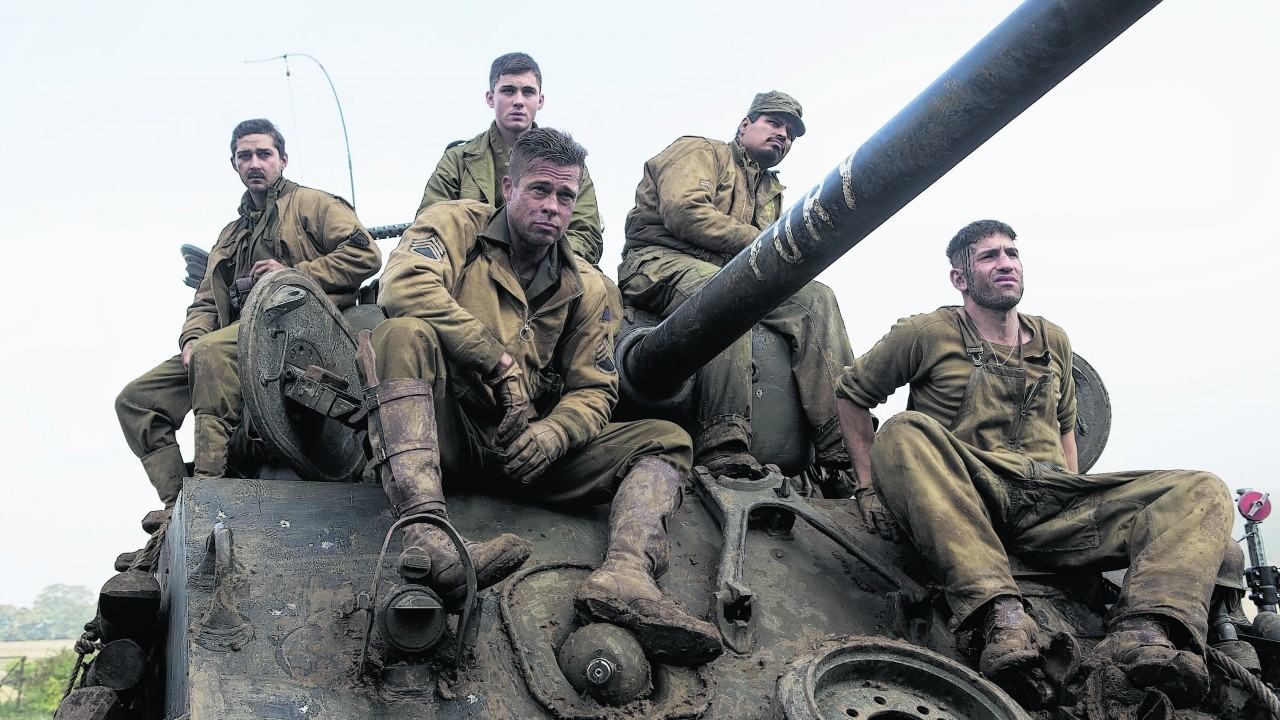 FURY (15)
At a critical juncture in David Ayer's wartime thriller, Brad Pitt's grizzled tank commander turns to an inexperienced new recruit and sounds the death knell on morality and diplomacy in a time of conflict.
"Ideals are peaceful; history's violent," he growls with an icy glare.
Those words resonate throughout Fury, a brutal, mud-spattered tour of duty during the final weeks of World War II, as seen through the gun sights of an M4 Sherman tank crew on a collision course with Hitler's troops.
The film opens with Pitt's inspirational leader stabbing an unsuspecting German officer in the eye and Ayer repeatedly sates a thirst for close-up gore with expertly choreographed battle sequences and hand-to-hand combat between ground troops.
The bloodbath abates temporarily for brotherly banter inside the claustrophobic tank, but the air is always chokingly thick with impending doom.
Eight weeks after he enrolls in the US army as a clerk-typist, Norman Ellison (Logan Lerman) is assigned the position of assistant driver in a tank christened Fury under the command of Sergeant Don "Wardaddy" Collier (Brad Pitt).
This battle-weary veteran began the war in Africa and moved to Europe, killing numerous Germans along the way in the name of freedom.
Aided by the rest of his crew – Boyd Swan (Shia LaBeouf), Trini Garcia (Michael Pena) and Grady Travis (Jon Bernthal) – Collier gives Norman an initiation he will never forget on a series of missions led by Captain Waggoner (Jason Isaacs) and Lieutenant Parker (Xavier Samuel).
Three other tanks, commanded by Sergeant Binkowski (Jim Parrack), Sergeant Davis (Brad William Henke) and Sergeant Peterson (Kevin Vance), flank Fury as US soldiers push on towards Berlin.
"It will end soon," Collier assures Norman, "but before it does, a lot more people gotta die."
Fury paints a familiar picture of the hell of war, directed with testosterone-fuelled swagger by Ayer, who previously helmed the bombastic police thrillers End of Watch and Sabotage.
His script is studded with polished dialogue that doesn't quite ring true, like when Collier berates thuggish Grady: "You're an animal. All you understand is fist and boot."
Or when Collier encourages Norman to sow his seeds with a pretty young German (Alicia von Rittberg) by purring: "She's a good clean girl. If you don't take her into that bedroom, I will."
Pitt leads the cast with a strong performance as a battle-weary commander, who holds back a tide of anguish and uncertainty until he is alone and can allow the sobs to shake his scarred body.
Lerman is equally compelling as a naive whelp, who develops a taste for killing Nazis.
Ayer obliges him with an astronomical body count and foreign fields slathered as far as the eye can see in mud, blood and the bodies of the fallen.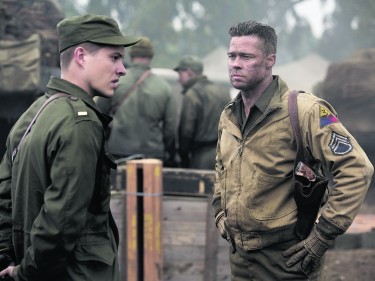 ---
THIS IS WHERE I LEAVE YOU (15)
Emotional entanglements of a dysfunctional family provide the humour and pathos in Shawn Levy's touching comedy of shared history and heartache.
Screenwriter Jonathan Tropper adapts his own bestselling novel, stitching together an entire year's worth of TV soap opera plot threads into a freewheeling narrative that spreads joy and misery evenly among the underwritten characters.
Revelations come ridiculously thick and fast, requiring ever greater suspensions of disbelief, to the point that we wouldn't be surprised if one of the central clan was unmasked as an extraterrestrial doppelganger.
Thankfully, Tropper peppers his script with sparkling one-liners and the ensemble cast flings these verbal grenades with devastating precision, cajoling us to laughter even when Shawn Levy's film plumbs the murky depths of toilet humour.
New York radio producer Judd Altman (Jason Bateman) arrives home with a cake for his wife (Abigail Spencer) and discovers the birthday girl in bed with
his obnoxious boss (Dax Shepard).
Shortly afterwards, a shell-shocked Judd receives a telephone call to inform him that his father has died.
He returns home to the surgically enhanced bosom of his mother, Hilary (Jane Fonda), and siblings Wendy (Tina Fey), Phillip (Adam Driver) and Paul (Corey Stoll).
It transpires that before the
old man died, he stipulated that the Altmans should spend a week together in grief and reminiscence.
"For the next seven days, you are all my children again," Hilary informs her brood, "and you are all grounded."
While Judd conceals his marital woes from mommie dearest, Wendy wonders if she made a mistake marrying her husband (Aaron Lazar) when she still loves a hunky neighbour (Timothy Olyphant); Paul clashes with his wife (Kathryn Hahn) about their inability to conceive, and Phillip struggles to behave like an adult in front of his new partner (Connie Britton).
Skeletons rattle out of the closet and Judd seeks solace with hometown gal Penny (Rose Byrne), who has always carried a torch for him.
This Is Where I Leave You fizzes pleasantly on the tongue despite screenwriter Tropper's detours from plausibility, his occasional mawkishness and the broad strokes of his character development.
Bateman mopes around like a rain-sodden puppy to curry our sympathy, while Fey injects some of her usual spark and wit.
Fonda has a ball as the potty-mouthed, imperious matriarch, who dispenses deep truths in one breath ("Secrets are a cancer to a family") and toe-curling confidences about her sex life with her late husband in the next.
Her comic whirlwind threatens to blow everyone else off screen and Fonda relishes the film's only plot twist you don't see coming. It's a humdinger.
Home, bittersweet home.