 It's Easter weekend and with fine weather predicted, a flotilla of small pleasure boats, along with a number of jet skiers and wind surfers are expected to venture out into the deep waters of the Moray and Cromarty Firths.
Hundreds of others will prefer to stay on terra-firma, making good use of the many golden sandy beaches that fringe the firths to go for a walk instead.
While their aim is to have fun and relax, for the 18-strong team who form the RNLI crew of the Trent Class Invergordon Lifeboat – the Douglas Aikman Smith – it's a different story.
They'll be listening out in case their pager, alerting them to a mayday and possible rescue, goes off as this weekend may well be the first of several busy weekends for them.
As crew member Michael MacDonald explained, the combination of better weather and holidays can sometimes lead to trouble.
"We have a big area to cover which stretches from Helmsdale to Burghead which takes in a few tricky sandbanks such as the one in Nairn.
"People don't set out with the aim of having to be rescued but it happens quite a lot because they aren't aware that they are perhaps walking on a sandbank and can get cut off by the tide.
"We had a pretty tricky rescue last year when three people, in their late teens/early 20s got stuck on the North Sutor."
The impressive but steep cliffs form one half of the gateway to the Cromarty Firth and are said to be a familiar landmark to mariners.
"I was doing a spot of shopping in the supermarket at tea-time when my pager went off," said Michael, 34, who on average takes just seven minutes to get from his home in Alness to the RNLI station on Shore Road, Invergordon.
"The lifeboat was launched and when we got there we could see them stuck about 60ft up the cliffs. They'd been on the beach and decided to see how high they could climb.
"It's a rocky outcrop, not designed for walking up and with no paths, so they got stuck.
"We deployed two crew members using a small inflatable boat but because there were rocks falling down it wasn't safe to scale the cliff so we had to ask the Coastguard to send the Sea King 137 helicopter from Lossiemouth.
"Despite being a tricky operation for the winchman, he managed to winch them down on to the beach and from there we got them onboard the lifeboat and back to Invergordon."
Michael, who has been part of the RNLI crew for eight years and works for Open Reach BT, says every call out or 'shout' they get is different, but in the 40 years since there's been a lifeboat based at Invergordon, they've witnessed quite a few changes.
"The nearest lifeboat station used to be at Cromarty but in the early 1970s, when the oil industry was taking off, it was decided to relocate the lifeboat to where the main action was," said Michael.
"Much of our launches are connected to fishing vessels which have engine issues or crew illness, but we also go to rigs and platforms in the North Sea to get workers who have taken ill back on land.
"Over the years there's been several memorable incidents we've been called to including a mayday from the Est cargo ship which, shortly after leaving Invergordon, was subject to an attempted hostage takeover when one crew member, armed with an axe and various weapons, threatened the rest of the crew."
The six-hour drama unfolded a mile from shore and despite gale-force winds and freezing temperatures, some of the crew had to jump into the water to escape.
"The lifeboat was also one of three called to the crash scene in 2012 when two Tornado jets collided over the Moray Firth near Helmsdale.
"It was slightly foggy that day but we spent hours doing everything we could to find people or debris in the water."
Three airmen died that day. Their colleagues went on to raise money for the lifeboats which went to the rescue of the downed fliers who lost their lives as a result of the mid-air collision during a training exercise on July 3, 2012.
To thank the lifeboat stations involved, RAF personnel raised more than £3,000 which was shared between three local stations.
"Members of the public are often surprised to learn that the RNLI is entirely funded by public donations, we don't receive any Government funding at all," said Michael.
"We are not in this for the thanks, but to save lives at sea.
"We do get the occasional letter of thanks but people are mostly embarrassed about having to be rescued."
This year, the RNLI, founded by Sir William Hillary celebrates its 190th anniversary while the Invergordon station celebrates its 40th anniversary.
The all-weather Trent Lifeboat was bought in 1996 for almost £1.5million, thanks to the generous bequest of the late Douglas Aikman Smith, owner of a laundry and dry cleaning business, and whom the boat is named after.
Measuring nearly 46ft, she has been designed to self-right in approximately six seconds in the event of capsize.
Powered by twin diesel engines with a BHP of 860 each, she can cut across the waves at 25 knots and has an operational range of 250 nautical miles.
"It can be flat calm here but once you are out of the shelter of the Cromarty Firth it can be a different world," said Michael.
"Because of its flotation qualities the boat can be quite bouncy and when the sea is wild it's not unusual to drop 12-15ft feet with a wave which takes a bit of getting used to."
While the crew, who apart from full-time mechanic Kevin Dent are all volunteers with a diverse range of occupations ranging from engineers to distillery worker and hotel manager, are seated in the wheelhouse, up to 10 survivors can be housed in the cabin below.
"Being a volunteer can take a big chunk out of your life – my partner will tell you I'm here every day, but generally we train at least one evening a week practising everything from working with the helicopter to man overboard situations.
"Between the crew and those involved behind the scenes, it's a great team to be a part of."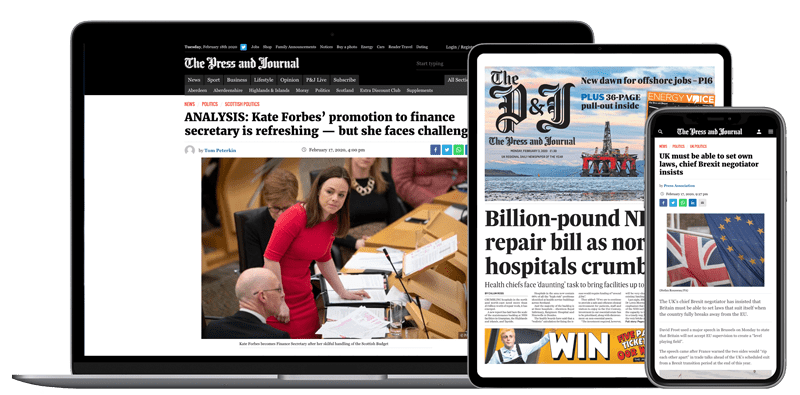 Help support quality local journalism … become a digital subscriber to The Press and Journal
For as little as £5.99 a month you can access all of our content, including Premium articles.
Subscribe