 A pensioner was critically ill in hospital last night after he accidentally rode his mobility scooter into a north-east harbour.
Holidaymakers ran to rescue disabled Stuart Farquhar when he plunged into the water at Pennan.
Mr Farquhar, who is in his 80s, was taken by helicopter to Aberdeen Royal Infirmary.
He was alone at the seafront – made famous by the film, Local Hero – when the accident happened, just before 11am.
It is understood Mr Farquhar had been trying to turn his scooter at the harbour's edge.
The harbour was cordoned off for several hours while police tried to establish what had happened.
Sergeant Gerry Ferris said: "The man fell off a pier at the harbour, along with his scooter. It appears to have been a total accident.
"He was helped out by members of the public and an ambulance was called.
"It was decided to call in an air ambulance to get him to ARI."
The pensioner, who had a serious head injury, was assessed at the scene by paramedics before being taken up the steep road out of Pennan by ambulance.
An RAF rescue helicopter from Lossiemouth landed in a nearby field and Mr Farquhar was taken on board.
Pennan was busy with tourists at the time of the incident.
It is believed that Mr Farquhar, who lives on the outskirts of the village near Cullykhan Bay, was pulled out of the harbour by a couple who had been staying at a holiday cottage.
Peter Simpson, who runs the Pennan Inn, said: "I went out and there was a lot of people down at the harbour, everybody was doing what they could to help.
"I called for an ambulance, but I think someone had beaten me to it.
"It was a really nasty accident. When it happened the tide must have been right out, so the water couldn't have been more than about a foot deep."
Troup councillor Mark Findlater said: "This was a terrible thing to happen. My thoughts are with this man's family at this very difficult time."
He praised the action of the rescuers. "They went straight into the water and got him out quickly," he said.
Mr Farquhar is a familiar figure in the village. He is often seen riding his scooter along the seafront.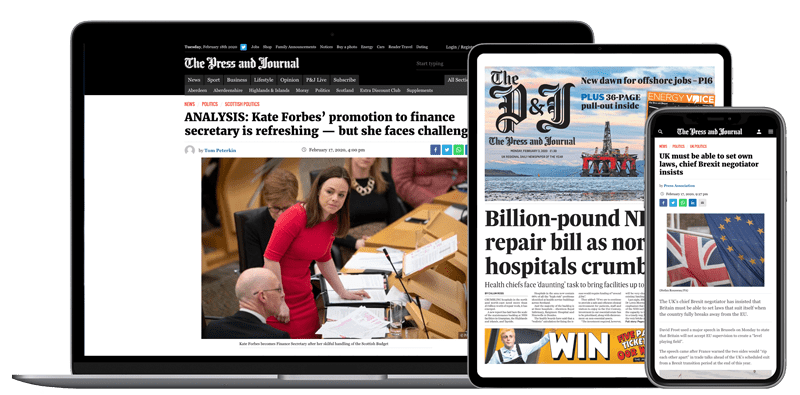 Help support quality local journalism … become a digital subscriber to The Press and Journal
For as little as £5.99 a month you can access all of our content, including Premium articles.
Subscribe