 RESIDENTS, business leaders and tourists have leaped to the defence of Fort William after a travel guide advised would-be visitors to give it a wide berth.
Motorists were told the 260-mile route from Glasgow to Skye, which passes through the town, was one of the 30 greatest drives in the world – but Fort William itself was not worth a pit stop unless they wanted to "stock up on tartan, tablet and fluffy haggis toys".
Admirers of the Lochaber town – known as the Outdoor Capital of the UK – hit back last night at the advice in Travel magazine.
Lochaber Chamber of Commerce destination manager Frazer Coupland said it was "nothing short of foolish", while local councillor Brian Murphy said the authors were "ill-informed and stupid".
The views from locals were echoed by satisfied tourists visiting Fort William yesterday as they described it as "an ideal touring centre".
Mr Murphy, who represents Fort William and Ardnamurchan, said townsfolk were used to deflecting unwarranted criticism and pointed to similar comments in a recent Lonely Planet travel guide.
He said: "I think what Travel has said is very unfair and is typical of the ill-informed and stupid comments we get from time to time. It is badly wrong.
"The town has a lot to offer tourists and is a great place to visit. It is the Outdoor Capital of Britain – and for good reason."
Mr Coupland said: "This is another piece of unresearched, cheap journalism given the town's rich industrial, historical and cultural heritage.
"The statement is nothing short of foolish. The much-celebrated West Highland Museum, the high standard of food and drink on offer, and the town's ability to host world-class events celebrating mountain and maritime activity indicates a much richer depth."
Fort William Community Council chairman Neil Clark said the Lochaber town had plenty to offer tourists and was a great place to live.
"Fort William is an ideal place for visitors," he said.
"We've got Ben Nevis and the steam train and there are plenty of other attractions.
"The Small Isles cruises from Mallaig and Western Isles cruises from Oban are all within easy travelling distance and we're only 60 miles from Inverness.
"Given the choice of staying in some inner-city conurbation or living in the beautiful splendour of the west Highlands, I know which I would go for every time."
The route from Glasgow to Skye figures in a list that includes the famous Cape Town to Cape Point route in South Africa, Norway's Atlantic Road from Molde to Kistiansund, a 4×4 drive across an Icelandic glacier, "dune-bashing" in the Dubai desert, Los Angeles to San Francisco, Melbourne to Port Fairy in Australia and Bastia to Bonifacio in Corsica, as well as routes in Cuba, Argentina, India and Thailand.
The only other journeys to make the grade from the UK are a circular drive around Keswick in the Lake District and Wrexham to Beaumaris in Anglesey, Wales.
The magazine also recommends using the Glenelg ferry to Skye, which it is describes as 600 yards of "pure magic", and seeing Neist Point on the island, where "sheer cliffs plummet hundreds of metres to a sea filled with frolicking harbour porpoise, common dolphins, and every now and then, orcas".
However, it says of Fort William: "Unless you want to stock up on tartan, tablet and fluffy haggis toys, skip Fort William and power on to the Commando Monument viewpoint at Spean Bridge for splendid Ben Nevis views instead."
Comment, Page 28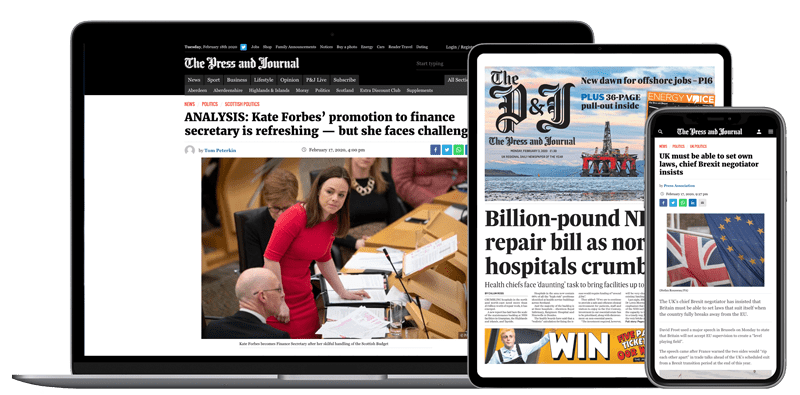 Help support quality local journalism … become a digital subscriber to The Press and Journal
For as little as £5.99 a month you can access all of our content, including Premium articles.
Subscribe