THE DUFF (12A)
4 stars
It seems rather disingenuous for Hollywood – an industry that reveres glamour, designer couture and age-defying beauty – to peddle wish-fulfilment fantasies to female audiences that extol beauty as a quality that radiates purely from within.
Cinema's so-called ugly ducklings are invariably gorgeous actresses who have neglected to wash their hair and put on make-up for a few scenes, dressed in oversized high-street fashions.
Their transformation into glittering swans is just a couple of hours away, courtesy of a top stylist.
Ultimately, we're suckers for these widescreen fairytales and The Duff continues the trend with sassiness and style.
Ari Sandel's film is an unabashedly feelgood comedy about one young woman's journey from insecurity to self-acceptance that patrols the same high-school corridors as She's All That, Clueless, Mean Girls and 10 Things I Hate About You.
Josh A. Cagan's script, adapted from the novel by Kody Keplinger, embraces every well-worn cliche and convention, empowering its heroines to take control of their lives and defy magazine articles which dictate how they should behave or dress.
Thus, one tomboy isn't fussed about attending her school's rites-of-passage prom because she already has a date in front of the TV.
"There's a Vincent Price marathon on, so I gotta watch that," she deadpans.
The devoted horror fan is Bianca (Mae Whitman), who attends parties with her best friends, Jess (Skyler Samuels) and Casey (Bianca A. Santos), oblivious to the fact that she is the D.U.F.F. – Designated Ugly Fat Friend – of her close-knit social circle.
When her next-door neighbour, hunky athlete Wesley (Robbie Amell), who is dating the school's queen bee Madison (Bella Thorne), opens Bianca's eyes to the upsetting truth, she resolves to transform from an ugly duckling in order to land a date with her dream beau, Toby (Nick Eversman).
Bianca recruits Wesley to polish her rough edges and, in return, she improves his academic grades so he can secure a sports scholarship.
With encouragement from her sassy mother (Allison Janney), whose mantra is "believe, retrieve, achieve . . . just don't conceive", Bianca realises that even the most beautiful girls at school are someone's D.U.F.F. and she shouldn't be defined by a cruel label.
Meanwhile, Madison grows jealous of Bianca's friendship with Wesley and dispatches her acolyte Caitlyn (Rebecca Weil) to spy on the odd couple.
The Duff is a heartfelt and frequently hilarious traipse through teenage angst, anchored by a luminous central performance from Whitman.
She endears us to her snarky and cynical 17-year-old and shares winning screen chemistry with dreamboat Amell, and Janney as the divorced mom who believes you should "project confidence with a power pant-suit combo".
Colourful supporting turns from Ken Jeong and Romany Malco, as members of school staff, up the laughter quotient to the brink of hysteria.
JOHN WICK (15)
3 stars
The death of a cherished pet propels a retired hitman to the brink of murderous insanity in Chad Stahelski's blood-soaked action thriller.
Laced with macabre humour and punctuated by balletic fight sequences, John Wick embraces comedy and tragedy as its eponymous hero exacts eye-watering revenge for the slaying of a beloved beagle.
Keanu Reeves delivers one of his most compelling performances since The Matrix trilogy in the title role, not that Derek Kolstad's script asks a great deal of him. The actor's restricted repertoire of facial expressions fits perfectly with his assassin's grit and determination despite overwhelming odds, and Reeves is well-equipped for the physical demands of breathless hand-to-hand combat and running gun battles.
A shoot-out in a club is particularly thrilling and screenwriter Kolstad repeatedly stokes the myth of his protagonist, like when one crime syndicate boss whispers: "I once saw him kill three men in a bar with a pencil."
Hitman John Wick (Reeves) holsters his weapons for good to get married to, Helen (Bridget Moynahan).
Shortly after terminal illness upends the fairytale, John receives a present from his wife: an adorable beagle puppy called Daisy and a note which reads: "I have found my peace, now find yours."
The assassin comes to terms with his loss through his bond with the animal.
One night, Russian playboy Iosef Tarasov (Alfie Allen) and his underlings (Omer Barnea, Toby Leonard Moore) break into John's home, beat him to a pulp and kill Daisy.
This act of senseless brutality fuels John's lust for revenge and he hunts down Iosef, ignoring the fact that his target is the son of powerful mob boss Viggo Tarasov (Michael Nyqvist).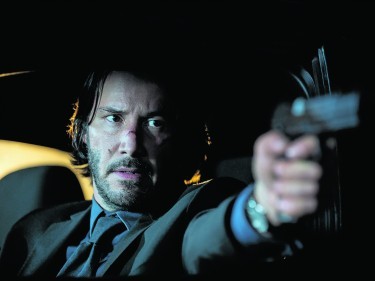 John dismisses Viggo's pleas for leniency, so the kingpin puts a $2million bounty on the hitman's head, piquing the interest of rival killers Marcus (Willem Dafoe) and Ms Perkins (Adrianne Palicki). Meanwhile, John takes up lodgings at a hotel called the Continental, which caters for assassins and won't allow murder on its premises.
"You dip so much as a pinky back into this pond, you might find something reaches out and drags you back in," warns hotel owner Winston (Ian McShane).
John Wick recognises its strengths and plays to them with suitably wry humour, including an eye-catching turn from Lance Reddick as the Continental's obliging concierge, who doesn't bat an eye at blood spatter on his clientele.
The beagle puppy couldn't be cuter and we're completely behind Reeves's grief-stricken owner as he razes entire establishments in honour of his fallen four-legged friend.
Director Stahelski, who is a stunt co-ordinator by trade, is understandably more comfortable with flying fists than zinging dialogue.
However, he sustains dramatic momentum well and builds all of the wanton slaughter to a suitable grand resolution.