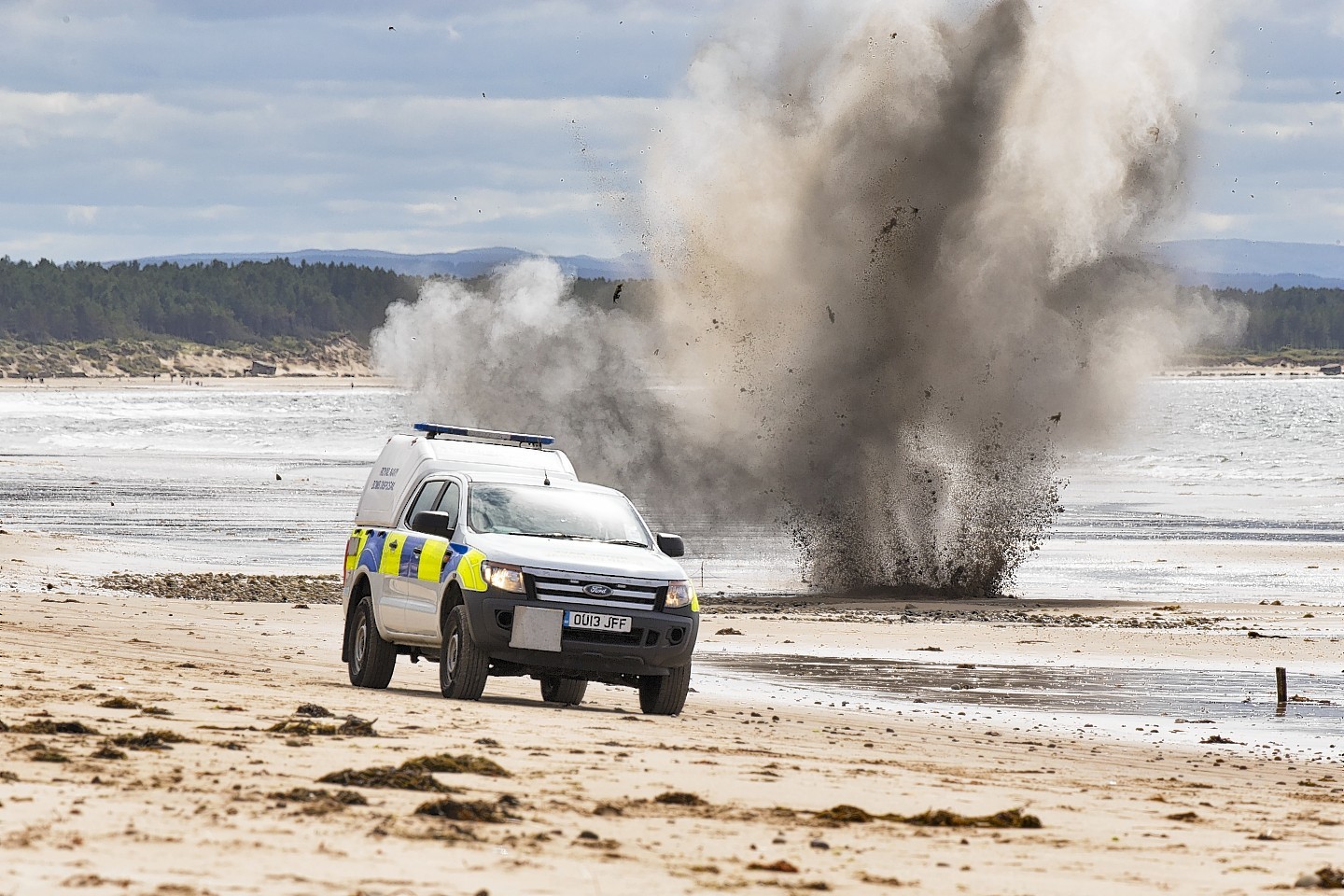 A bomb disposal squad descended on a picturesque Moray fishing port yesterday to detonate a World War II explosive that had washed ashore.
Pensioner Spencer Julian made the shocking discovery while he was walking his West Highland Terrier Maisie along the sands at Burghead beach on Wednesday morning.
Coastguard crews made sure the area was safe until Royal Navy experts arrived yesterday to carry out a controlled explosion.
The explosive was believed to be a naval projectile shell used during the war.
Mr Julian, who spent his working life working with used bombs at the RAF base in Kinloss said he immediately knew something was "out of place" about the rusted relic.
He explained: "I go along the beach at Burghead quite frequently with Maisie, and we were enjoying a stroll there on Wednesday afternoon when we came upon the object.
"It was about 20 inches long, and I knew there was something out of place about it."
Mr Julian, who does not carry a mobile phone, rushed home to call an acquaintance who works for the coastguard service.
He then sent his friend some photographs of the device, and was quickly advised to call 999.
Coastguard personnel kept a close vigil over the site to prevent people going near the device, and at 2.30pm yesterday afternoon the Royal Navy's northern diving group arrived from Faslane to detonate it.
Senior officer with the coastguard service, Colin Wood, said: "Our staff kept watch over the area after we learned about the device.
"In the afternoon the Royal Navy's bomb disposal team turned up, and they dug quite a big hole around the shell before attaching little explosives to it."
The resulting explosion sent sand scattering across the deserted seafront.
Last night, Mr Julian admitted one of his primary concerns upon spotting the bomb was the welfare of his pet.
He said: "Maisie is on medication at the moment and that makes her want to eat everything, but I think a bomb would be a bit much for her so I made sure to keep her away from it."