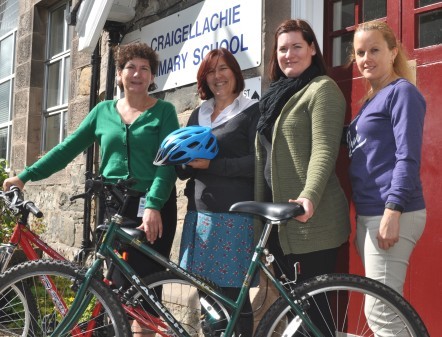 Staff from a Speyside school are hoping to fund outdoor activities for pupils by putting their own physical fitness to the test.
The four women who work at Craigellachie Primary will swim, cycle and walk a total of almost 30 miles each in the course of a gruelling day-long triathlon later this month.
Head teacher Shiobhan Woolgar will be joined by fellow teachers Sharon Chambers and Eilidh McCook, and support staff member Sarah Morrison for the challenge.
Next Saturday, September 12, the foursome will each swim a mile in the pool at Elgin before changing into cycling gear and pedalling 19 miles to Archiestown, via Dallas.
The women will then complete their trek by walking eight and a half miles along the Speyside Way to Craigellachie.
Ms Woolgar said youngsters from the primary enjoyed a range of outdoor pursuits and that the proceeds from the challenge would help to support them in .
She said: "We live in an environmentally stimulating part of the country, and we place a strong emphasis on caring for and learning in our local environment.
"Right the way through the school our pupils take part in forest learning, mountain biking, canoeing and surfing.
"These experiences give a good grounding for fitness and can establish a love and understanding of the environment."
Lossiemouth-based Bike Revolution has provided the staff with a free bike maintenance course in case they encounter mechanical problems on the road.
Sponsorship forms for the triathlon are available in local hotels and shops in Craigellachie for anyone who would like to donate.