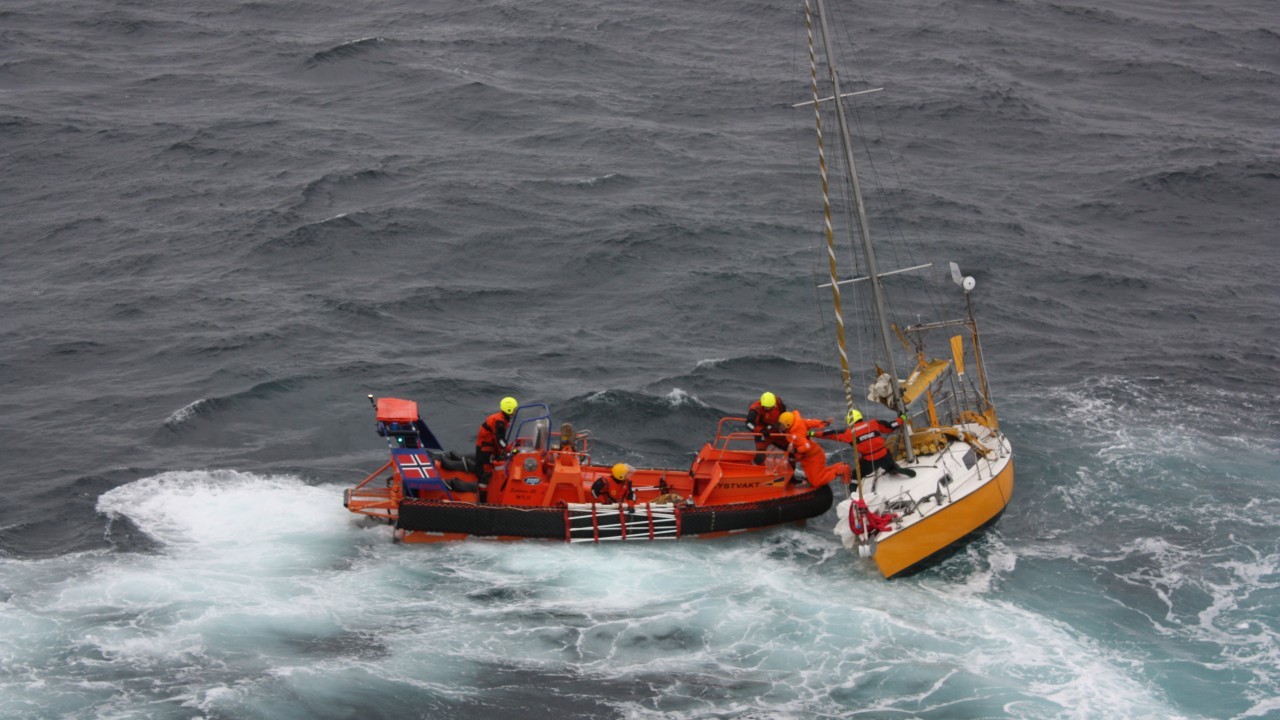 An 82-year-old sailor was last night heading back to dry land after spending more than 18 hours adrift in the North Sea in his small yacht.
Bad weather hampered attempts to rescue solo yachtsman and author Julian Mustoe after his 25ft craft lost power en route from Shetland to Norway.
He raised the alarm around 8.50pm on Tuesday when his vessel Harrier of Down lost power roughly 110 miles from Lerwick and 100 miles from Bergen on the Norwegian coast.
A Norwegian coastguard vessel spent most of the day standing by the yacht but was unable to safely rescue the sailor because of 20ft waves and high winds.
A Norwegian coastguard spokesman confirmed Mr Mustoe was taken aboard the cutter MV Bergen after 3pm.
His yacht was also taken under tow to be but the coastguards in the UK said it would be a "prolonged process" to get it to shore because of sea conditions.
The mechanical failure left Mr Mustoe unable to steer and he came within half a mile of Total's gas platform Alwyn North while drifting.
The standby vessel Vos Prospector, from the Dunbar gas field, had contacted Shetland coastguards after picking up Mr Mustoe's call for help and a rescue operation was launched.
Vos Prospector tried to attach a tow line to the Harrier of Down but could not because of the weather.
Mr Mustoe is thought to have been travelling from Shetland to Bergen when he got into difficulty.
A spokeswoman for the Maritime and Coastguard Agency said: "The man who was left drifting in the North Sea after his yacht lost its steering is now onboard a Norwegian Coastguard cutter.
"The UK coastguard has been working with its counterparts in Norway to help the man who was stuck in challenging weather conditions.
"It's now planned to take him and his yacht – under tow – back to Bergen which is expected to take some hours as it is a prolonged process."
The Englishman has written a book titled Voyage Of The Harrier, about his circumnavigation of the world between 2001 and 2012, retracing Charles Darwin's journey in HMS Beagle.
According to Mr Mustoe's website, he planned to set off for the Baltic Sea in the summer, to conduct another historic cruise based on the territory and activities of the medieval Hanseatic League.