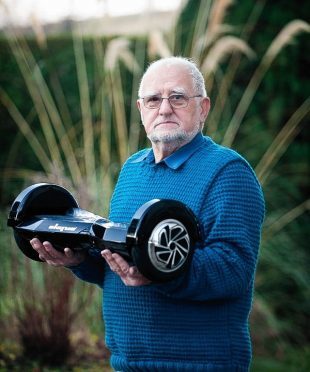 A Moray pensioner believes he has had a lucky escape after buying potentially explosive "hoverboards" as Christmas presents.
Bob Wilson, 72, bought Skque brand self-balancing scooters as gifts for his nine, 10 and 11-year-old grandchildren.
The Craigellachie resident imagined the gadgets to be perfect purchases for the youngsters, so was alarmed last week when trading standards officers issued a warning they could be dangerous.
The toy is top of many children's wish lists this Christmas, but it has emerged that they could explode if left to overheat – and they have been blamed for several fires in England.
Mr Wilson has now arranged the return of the toys – and has urged others to do the same.
The former councillor said: "I contacted trading standards myself, and when I described the products I had bought they were very quick to suggest I return them.
"They had grave concerns, and the scooters I bought are now no longer listed for sale.
"These things seem great fun, and I had a whale of a time racing up and down the hall trying them out.
"But I'm just grateful I was warned about them in time, I dread to think what could have happened if these faults hadn't been discovered.
"I hate to think of any kids being injured."
The granddad says the toys, which he bought online, appeared to be of a high standard.
But when they arrived they came in boxes with no branding and little information.
He was also disconcerted by a note saying that "only a qualified electrician" should handle their batteries.
Using the self-balancing scooters, youngsters can glide along the ground on wheels mirroring the "hoverboards" in the Back to the Future movies.
Mr Wilson was inspired to buy the gadgets as Christmas gifts after he and one granddaughter were "captivated" by seeing a girl using one outdoors.
Last week, Moray Council's trading standards team descended on shops in Elgin, Forres and Buckie found to be selling the dodgy merchandise.
The move came as part of a UK-wide operation in which more than 15,000 of the imported toys were impounded at ports and airports.
Many self-balancing scooters have been found to have plugs without fuses and defective cut-off switches, which risk the device overheating or catching fire.