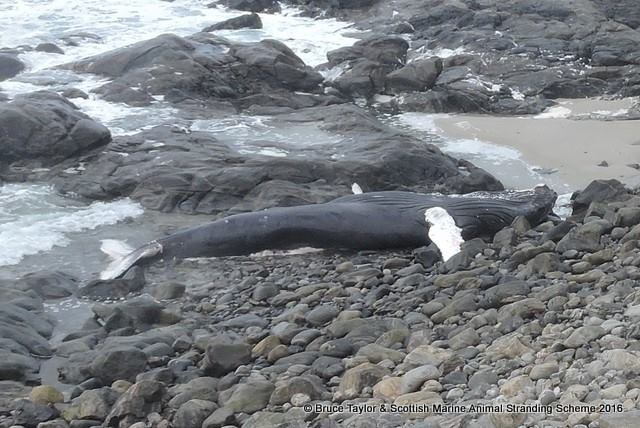 A giant humpback whale has been found dead on the Isle of Barra in the Outer Hebrides – almost certainly painfully killed by being snared by fishing ropes.
The 26-feet long animal was a juvenile. Humpbacks can grow to 52 feet long.
The young male was found upside down at Traigh Hamara at the southern end of the island.
A spokeswoman for the Scottish Marine Animal Strandings Scheme said the whale had classic signs of having suffered entanglement.
"We can tell from the marks on the whale that it has become entangled.
"We are 90 percent certain that the marks are rope lesions," she said.
"We will be examining the whale in more detail but it appears to be a juvenile male.
"Since 1992, when our records began, there have been 21 strandings of humpback whales in Scotland – so it is not uncommon occurrence, but nor is it something that happens that often.
"The population is slowly increasing but the risk of entanglement is a big threat to them and other whales."
Only in January another humpback was saved by rescuers after getting entangled in fishing ropes in a remote Sutherland Loch.
Members of the British Divers Marine Life Rescue freed the 40ft whale which had been caught in gear in Loch Eriboll near Durness.
Rescuers came from all over Scotland to help save the mammal.
Specialist disentanglement equipment was used in the rescue – some of it flown from London to Inverness, and then taken by road to the scene.
Staff from a local fish farm also helped with boats and crew. It had become trapped in creel pots.
Humpback whales were once hunted to the brink of extinction in Scottish waters, but in recent years the Hebridean Whale and Dolphin Trust has noticed an increase in the number of sightings. There were 11 last year.
It is unknown whether this represents a genuine increase in population size, a range shift into Scottish waters, or more vigilant reporting from members of the public. Researchers in Ireland believe that humpback whales there are increasing in numbers.
Humpback whales are at high risk of entanglement in ropes and lines in the water – including the giant snared in fishing gear at Helmsdale, Sutherland, in June and used by TV adventurer Ben Fogle last month as "bait" to see if he could prove great white sharks visited UK waters.
Humpback whales have the largest forelimbs in the animal kingdom – leading to their scientific name Megaptera, meaning "giant winged".
They have 19 feet long flippers which make them prone to snagging ropes. Given that they cannot swim backwards, a simple entanglement can be fatal or lead to prolonged suffering.
Also in January it was revealed that one of the last nine remaining resident killer whales in the UK found dead on a beach in the Inner Hebrides was killed after becoming entangled in fishing gear.
It is the first time a killer whale is known to have died this way in Scotland – and she had probably been painfully trapped for several days.
The Orca, known to researchers as Lulu – one of only four females in the group – was discovered beached on the island of Tiree.
Lulu was one of a pod of orcas that patrol the waters around the Hebrides and eastern Irish coast. Scientists now believe there are just eight animals remaining in the pod, the only resident orca community in British waters.
But in a report after conducting an necropsy on Lulu, scientists at the Scottish Marine Animal Strandings Scheme said Lulu's death was clear.
"We found convincing evidence that she had become chronically entangled and this was the most likely cause of her death," they said.
"There were deep, granulating wounds around the tailstock and tell-tale twin linear abrasions on the underside of the tail fluke. These are consistent with a rope wrapping around the tail and trailing behind the animal, probably still attached to something at the other end. This would have made normal swimming very difficult, and we suspect the animal had been entangled for several days."
No calves have been born since researchers first began tracking the West Coast orcas in the 1980s, with some biologists claiming pollution in the water has led to high rates of infant mortality.
Entanglement is the most commonly observed cause of death recorded for minke whales in Scottish waters.the exact numbers and scale are unknown.
There have been at least four whale deaths caused by entanglement in Scottish waters in the past 12 months.
But more than a sixth of surveyed minkes – the most common species of whale found in Scottish waters – have been damaged by fishing equipment, an investigation revealed in 2014.