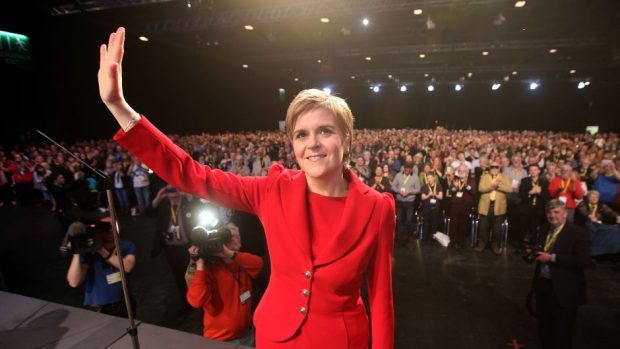 Here's something you already knew – the SNP still want independence.
Here's something you probably won't be surprised to hear – Nicola Sturgeon's announcement of a new campaign to build support for independence got the biggest cheer during her conference speech.
So what's new?
What's new seems to be the way the party intends to go about getting it.
We will be prepared to "challenge some of our own answers", the first minister said, "we won't try to browbeat anyone".
The party will "patiently and respectfully" seek to convince those who voted No in 2014, she went on.
John Swinney's message was also clear – our arguments weren't good enough last time, it's our job to convince you.
But it will most definitely be a difficult line to walk.
The SNP clearly needs to attract new supporters.
But in urging patience, do they risk losing those who joined in the aftermath of the independence referendum?
Those for whom independence is the cause above all causes?
In trying to straddle this wider group of voters, will the SNP come up against difficulties?
There is a risk, but the SNP has little choice if it wants to eat into the 55%.
That said, where else will the fundamentalists go?
Perhaps, as one MP suggests, they will be willing to "park" the cause for the time being, happy the party is going in the right direction.
But they will need throwing a bone every now and again.
Maybe that's where Stewart Hosie's remarks on the EU were directed.
However England votes in the EU referendum, Scotland will stay in, was his rallying declaration – another clear sign that Brexit would trigger a second independence referendum.
Some have suggested Ms Sturgeon is hoping for a vote to leave.
But she has repeatedly rejected this notion and would of course have to be sure as she could possibly be of a win the second time around.
Otherwise the cause really would be dead in the water for a generation.