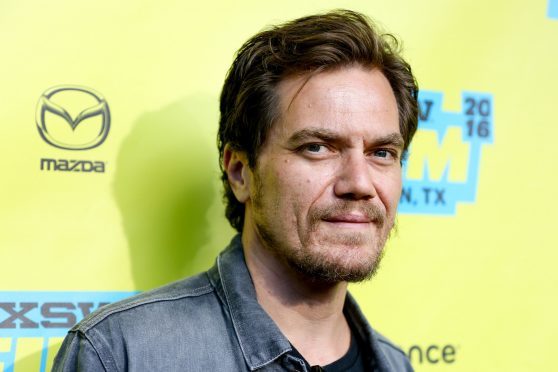 Say what you like about US actor Michael Shannon, but don't question his dedication.
He's on a fleeting visit, having flown into the UK just hours before – to then leave the same afternoon – when we meet. But there's method in his madness, as the Kentucky native explains he's in fact rehearsing for his latest Broadway stint, Long Day's Journey Into Night.
"I'm starring with Jessica Lange. She did the play here in the west end 15 years ago and wanted to do it again, so we're doing it. She's my mum right now."
Shannon is somewhat intense, furrow-browed; the 41-year-old's cinematic reputation precedes him.
Since making his big screen debut in 1993's Groundhog Day, the acclaimed talent has gone on to star in over 40 films, including Revolutionary Road opposite Kate Winslet and Leonardo DiCaprio, and Zack Snyder's Man Of Steel. But it's his sanity-tipping, pressure-cooker roles he has become synonymous for – such as Curtis in Jeff Nichols' Take Shelter.
He's quick to shut down those who pigeonhole him, however.
"Isn't the idea that you're different people in each of the movies? Sometimes I hear that I play different parts and sometimes people say, 'So you always play the same part'. It's confusing, but it's part of our culture: everybody describes everything by comparing it to something else."
From his disarmingly deadpan expression to his drawn-out answers, Shannon – dressed in a casual jeans and denim shirt combo – is hard to read, but equally fascinating.
His latest venture – his fourth film with director and friend Nichols (Shotgun Stories, Mud) – is just as ambiguous.
Midnight Special tells the story of Roy (Shannon), a father who is desperate to protect his uniquely gifted eight-year-old son Alton (Jaeden Lieberher).
As the pair go on the run, aided by friend Lucas (Joel Edgerton), and later the child's mother Sarah (Kirsten Dunst), an intense car chase ensues as they are hunted down by a mysterious cult and a clandestine government agency – the outcome of which could bring about a world-changing event.
"Most people have some mystery in their lives, unanswerable questions," declares Shannon. "I don't think Roy really knows what's happening with his son."
Citing Eighties sci-fi classics such as Starman among the film's artistic influences, Nichols first sold the premise to Shannon as a car-chase movie – with some "stunt-type driving".
But with supernatural undertones, the duo steered into new territory for the genre-defying thriller.
Mulling over every word, Shannon exclaims: "I think everything is science-fiction.
"A lot of things that used to seem very far-fetched and 'in the future' are now in the present, and that's going to keep getting more extreme as time marches on. Things like Skype and drones used to be something you would read about in a Ray Bradbury story, and that's what gives me the heebie-jeebies."
He's just as uneasy when it comes to social media.
"I'm a real Neanderthal. I don't enjoy technology much; I'm cautious about it.
"We need to be careful that we don't rely on it too much," he adds. "It creeps me out when I'm on the subway and I see everybody staring at their phones.
"Somebody made a point recently that it's like people are becoming androids, and that makes me uncomfortable."
But the father-of-two – who lives in Brooklyn with his partner of 14 years, actress Kate Arrington – realises he has to accept it will be a part of his daughters' upbringing.
"I try and instil a sense in them that…," he begins pensively. "Look, you can't block that out of their lives completely, but at the end of the day, you need to be paying attention to what is actually right in front of your face, not what you're looking at on a screen.
"It's unnerving, but I probably just sound like an old fuddy-duddy."
With 25 years in the industry, working across TV, film and theatre, the Oscar and Golden Globe-nominee shows no sign of letting up in 2016.
In addition to Midnight Special, the in-demand actor will play Elvis Presley, opposite Kevin Spacey, in Liza Johnson's historical film Elvis & Nixon.
Of his transformation into 'The King', the former musician says: "I think anybody who wouldn't be intimidated taking it on would be pretty silly.
"I appreciated Elvis' music but I wasn't a fanatic. I learned a lot about him working on the movie, which I'm grateful for, because the more time you spend studying Elvis, the more fascinating he becomes."
But skipping from one job to other, he admits, has its pitfalls.
"Sometimes I think about other actors who take a lot more time off, or seem to be a lot more selective. I look at someone like Daniel Day-Lewis, who really does one movie every two or three years, and sometimes I envy that.
"It's just I'm never quite sure which one is going to be the one. I doubt they'll all be a hit; it's like gambling."
Shannon has spent the majority of our interview turned away from me, and I wonder why someone has flown across the Atlantic to take part in a bout of press interviews if he finds the entire process so laborious.
But perhaps the reason is glaringly obvious: he's committed to his craft, not its malevolent accomplice, 'fame'.
"I am in denial about it," he acknowledges, shifting ever so slightly in my direction.
"I try and go about my business as I always have; I take the subway to work every morning. If someone says, 'Hey, aren't you on TV or something?' I say, 'Yeah, I am', and there's not much more to say about it. It's just an interesting moment in somebody's day."
Midnight Special opens in UK cinemas on Friday, April 8