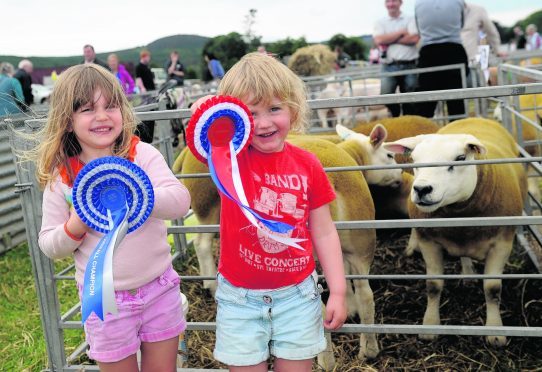 Of late, there's been several television shows highlighting different aspects of farming life, while events such as the recently held Open Farm Sunday show – which attracted thousands of visitors – show there's a growing interesting in all things rural.
As a result, organisers of the Echt Show are bracing themselves for even more visitors coming along to the hugely popular agricultural show which takes place this weekend, on Saturday, July 9.
One of the longest-running shows in Scotland, the 163rd annual show promises visitors a non-stop programme of entertainment with a huge agricultural section which ranges from a display of vintage tractors to sheep shearing and stock parades and judging. There's also numerous sports events with traditional heavy events, Highland dancing and fun events such as a dog show and sausage competition, cycle stunt team, along with pipe bands, fun fair, food fair and numerous trade stands.
Show secretary Marion Miller said: "Increasingly, people are coming along to see the animals being judged in the morning. People are really interested in livestock and we have the cream of stock from the north-east on show.
"There's approximately 1,200 animals descending on us including a super line-up of cross and pedigree cattle and a new class for Salers while the sheep section is also hugely well supported and includes a new section for Zwartbles sheep. There's also a big increase in the number of goat entries. In previous years, we've been lucky if we had eight entries, but this year we've already got 48 entries including pygmy goats and a Bagot, a registered rare-breed goat."
Judging starts from 9am and visitors needn't worry if their knowledge of animals isn't up to speed as a commentator will explain what the judges are looking for and why they have selected each particular animal. There's also a popular dog show, and entries can be accepted from 1pm on the day.
Another popular attraction is the annual sausage competition, a quest to find the best sausage.
"We get all sorts of sausages submitted which are judged and cooked before visitors get the chance to taste and buy them," said Marion.
"The industrial section is another popular visitor attraction while the crook-making competition is another big draw with more than 60 entrants taking part."
The 163rd show takes place at the Echt showground, and this year has its first female president, Elizabeth Shepherd, at the helm. In previous years, it has attracted as many as 4,000 visitors and with a busy programme, there's certainly plenty to keep visitors of all ages entertained.
Although the show itself takes place on the Saturday, the starting point for what promises to be a weekend of fun is tomorrow, Friday, July 8, when popular rock and folk band Skerryvore play a marquee concert in the showground.
Tickets for this concert are priced at £15 for adults and £10 for children aged five to 12. Doors open at 7pm and Skerryvore are on stage at 8pm, but tickets for the concert must be pre-booked so now is the time to book your place for what promises to be a special night out with the award-winning band from Tiree.
Tickets can be ordered via www.skerryvore.com and www.echtshow.co.uk until just before curtain up.
"Other highlights include the north-east of Scotland Sheep Shearing Championship, horse competitions, traditional heavy events, a vintage tractor display, Highland dancing and a visit from the Clan Scotland Cycle Stunt team, along with pipe bands, a fun fair, food fair and numerous trade stands," said Marion.
FACT BOX
WHAT: The Echt Show, The Showground, Echt, AB32 6UL.
WHEN: Saturday, July 9 (pre-show concert with Skerryvore on July 8).
ADMISSION: £10 for adults, £2 for youngsters aged 12-16, under 12s free. Parking is also free.
TIMES: Events start from 9am onwards.
CONTACT: www.echtshow.co.uk