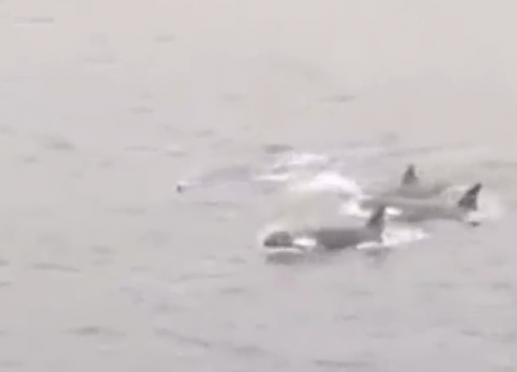 An orca expert has said recent killer whale visitors to Shetland are regulars in the summers.
Dr Andy Foote has been instrumental in setting up the North Atlantic Killer Whale ID (NAKID) project, which gathers knowledge on the movements and behaviour of individual animals.
Dr Foote, who now works on the genomics of killer whales at the University of Bern in Switzerland, said he could easily identify individual whales in photos taken over the last few days.
The predators have been watched by hundreds of delighted islanders and visitors over the last three days as the mammals came close in to hunt at Sumburgh, Gulberwick, Lerwick and South Nesting.
Tour operator Hugh Harrop of Shetland Wildlife said there was "an enigma" about killer whales that made them so attractive to watch, similar to other top of the food chain predators such as polar bears.
"We know very little about them and it is one of the ultimate animals to see in the wild," he said.
Dr Foote said that most of the groups of killer whales seen around Shetland return to the isles each summer.
"We also know that some groups are spending the winter in Iceland feeding on herring before moving back to the northern isles and Caithness in the summer," he said.
During fieldwork in 2008 and 2009, Dr Foote, then a PhD student at Aberdeen University, spent summer months in Shetland compiling an ID database of the killer whales roaming these northern waters.
And he confirmed that a photo of two orca calves in one pod, taken by on Tuesday at Sumburgh, was an unusual sight due to the small group sizes more commonly found in Scottish waters.