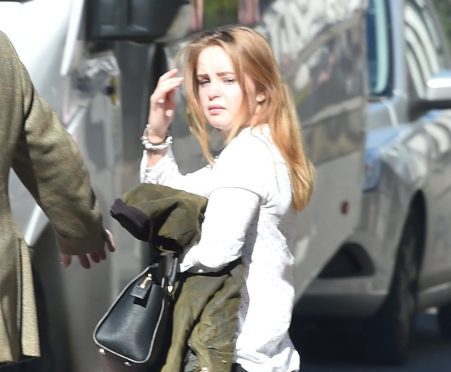 A teenager got behind the wheel while more than four times the drink-drive limit because she was too intimated by boozed-up revellers to walk down Aberdeen's main street.
Police caught Samantha Harwell driving a red Mini Cooper "at excessive speeds" down Union Street shortly after 4am on August 7.
And when they stopped her on Union Grove, they found she had 96 microgrammes of alcohol in 100 millilitres of breath. The legal limit is 22mcg.
Yesterday the 19-year-old appeared at Aberdeen Sheriff Court and admitted getting behind the wheel while over the limit.
The court heard Harwell, of The Steadings, Thorneybrae, Huntly, had been out drinking with her boyfriend in the city centre.
He said the pair had been celebrating her gaining a modern apprenticeship at a firm in Newtonhill.
But when her boyfriend decided he wanted to stay out when she wanted to go home, she made the "stupid" decision to drive.
Solicitor Gregor Kelly said that when she saw the rowdy behaviour of other revellers on the street she thought she would be safer to take her car home than to walk alone.
"This was an act of utter stupidity from what is other wise a sensible and intelligent young woman," he said. "She has never been in trouble before that day.
"Her car was parked in Spring Gardens. She was in student digs there and still had use of the car park space. She had no intention of driving the car but had gone out for a few drinks with her boyfriend who wanted to stay out and she wanted to go home.
"She was left on Union Street it was quite busy with an intimidating atmosphere. She did not want to walk to the flat on her own and so she went to get the car.
"She is only grateful that no great harm has befallen on her or those who could have been affected by her."
Sheriff Alison Stirling said she was concerned about the high level of alcohol in her system at the time she was stopped.
However she said she accepted the incident seemed to be out of character. She disqualified Harwell from driving for two years and fined her £800.