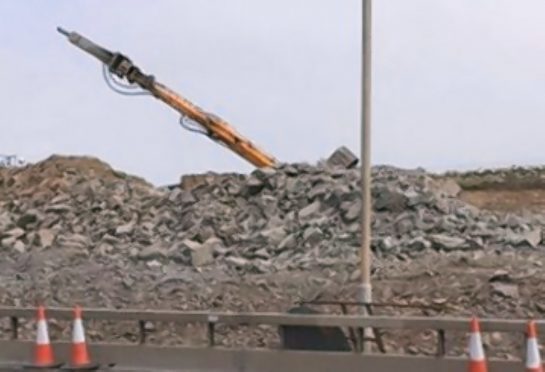 An investigation has been launched into how a massive steel structure collapsed on the site of the Aberdeen Western Peripheral Route.
The 29ft-high cage, which would have been used to construct a 60 tonne wall, toppled at the Goval Bridge section of the road, near Dyce.
Workers at the site last night claimed it was lucky nobody had been killed.
But Transport Scotland insisted it was a "relatively" minor incident, although confirmed an inquiry was under way.
The incident emerged as photographs were released by workers on another section of the road, which showed an overturned digger on the A90 at Charleston.
And now whistleblowers working on the £750million project – which will run from the A90 at Stonehaven and Charleston in the south to Blackdog in the north – have raised safety concerns.
Their claims come just weeks after residents living near some of the work sites raised fears for their own safety, appealing for contractors to slow down and complaining about the damage the lorries were causing to the roads.
One worker, at the Goval Bridge section of the bypass said the cage that fell was 65ft long and 29ft high.
He said: "We are all very unhappy at the moment, we have not seen any health and safety inspectors on the site.
"The cage was large and it could have done damage, it happened around 4.30pm, if it had been another time I'm sure there could have been fatalities.
"There are men on the site who are just disgusted and some who have left because they just don't feel safe at work.
"There is not enough supervision on the site. This is our job, we are parents, and the health and safety is just unbelievable."
Another man, from Stonehaven and working on the route near the town, said workers there had similar concerns.
He said: "There are some big problems with safety, the standard of work is high but it seems they want to get the project finished so are doing things quickly rather than right."
Steve Dillon, Scottish secretary of the UCATT construction union, confirmed they were aware of the incident, which happened last Tuesday.
He said: "Our convener on the site is aware of a number of safety issues including the collapse.
"We would encourage any member to report safety concerns to management or if they feel unable to then to the union."
North East MSP Ross Thomson – who previously tried to get Transport Secretary Derek Mackay to visit to hear residents' concerns – said it was important an "immediate and robust" investigation was carried out.
"It's deeply troubling that such a serious incident has occurred on site where major pieces of equipment potentially putting the lives of workers, visitors and residents at risks," he said.
"I know that local people will be very concerned by this latest incident which is why it is imperative that an immediate and robust investigation is carried out to identify how this happened, to support putting in place new procedures to give local people and those working on site the absolute reassurance that such a serious incident won't happen again."
But a spokesman for Transport Scotland downplayed the incident as "relatively minor" and said an investigation was underway.
He added that there were robust reporting procedure for workers on the AWPR.
He said: "We can confirm that a health and safety incident occurred on site last week. No one was injured as a result of this incident. An investigation is currently under way and any lessons will be applied to future work.
"Transport Scotland takes health and safety very seriously and is working with the contractor to ensure the highest health and safety standards are maintained across the site."
Construction continues to be Britain's most dangerous job, with 43 workers in the sector killed in 2015/16 according to Health and Safety Executive (HSE) figures.