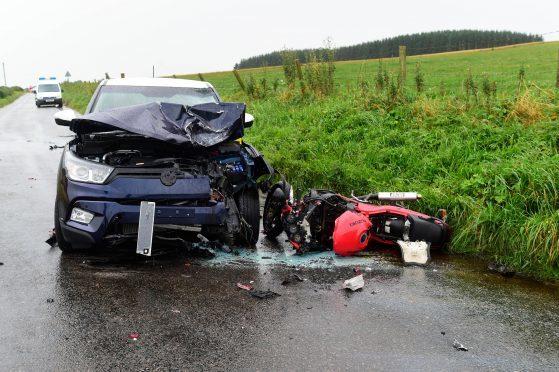 A biker died yesterday after a horrific crash on the outskirts of a north-east village.
The 46-year-old man, who is believed to be local, was killed after his red Suzuki GSX collided with a car on the outskirts of Cuminestown.
Police, fire and ambulance crews attended the scene, south of Teuchar Road, but the biker could not be saved.
The 50-year-old female driver of the blue Ssangyong Tivoli, who was alone in her car, was treated for minor injuries but did not need to be taken to hospital.
Debris from the wrecked motorbike lay strewn across the country road, while the car was also badly damaged with the bonnet crumpled, leaving the engine exposed.
Police closed off the road for more than six hours while collision investigators tried to piece together what had happened.
Speaking at the scene, Sergeant Colin Matheson said it was "too early" to determine the cause of the accident.
He confirmed the biker's family, who live abroad, had been informed.
He also appealed to anyone who had seen either the car or the bike in the moments leading up the accident, which happened just after 9am, to come forward.
Sgt Matheson said: "We're still looking into what has happened, and the man's family has been informed. They are local, but they live abroad.
"First and foremost our thoughts are obviously very much with the family and friends of the man who sadly died in this dreadful collision that took place on a quiet rural road.
"I would like to appeal to anyone who may have seen the incident and has not yet spoken to police to please come forward with any information.
"Likewise, anyone who may have seen either vehicle in the moments leading up to the collision should also get in touch with police on 101 as we try to piece together exactly what happened."
Last night, local councillor Sandy Duncan said the whole community's thoughts were with the family of the dead biker.
"I'm sorry to hear about another fatal accident on our local roads," he added.
"I haven't heard a name of who was involved, but you can only think of their families at this time. My condolences go to them."
Fellow Turriff and district councillor Alisan Norrie said: "An accident like this is a complete a tragedy for the families affected.
"The Cuminestown community is a very tightly knit one, and this incident will affect everyone terribly.
"My thoughts are with everyone concerned."
Anyone with information about the crash should call 101 or Crimestoppers on 0800 555 111.