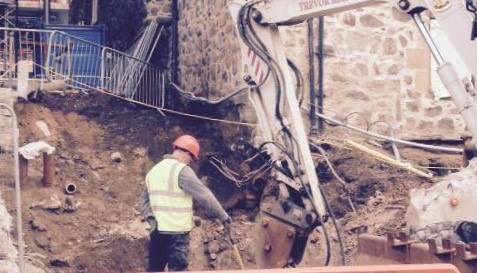 Developers have given assurances that no damage is being done to a historic Aberdeen building after critics questioned the impact of building works.
Photographs of excavations near Provost Skene's House were posted online by a group opposed to the Marischal Square development.
Campaigner Jon Symons said they raised questions about whether the 16th century, A-listed structure was being dangerously undermined.
But Muse Developments insisted there was "absolutely no danger" to the foundations of the house, which was getting "a new lease of life".
It is undergoing a £1.5million transformation into a museum celebrating the Granite City's famous sons and daughters as part of the development.
Mr Symons, an ex-pat Aberdonian who co-ordinates the Facebook group from Crete, had demanded assurances checks were being made.
"How weakened do you think the foundations are after pile driving for weeks to put in the new foundations and underground car parking basements for the buildings now surrounding it?" he asked.
"Now they're digging under the south-west gable end.
"Has anyone been inside to check for movement, cracks, damage? Did the contractors or the council use movement monitoring techniques?"
Aberdeen City Council said all work was "in line with the existing planning permission and listed building consent" and "will have no impact on the structure of the house".
A retaining wall and steps – which were added to the site in the 20th century – are being removed as part of work to allow a gas supply.
Historic Environment Scotland raised no objections to the changes and is being updated on progress by the local authority.
A spokesman for the developer said: "From day one, the Muse team were clear on the historical importance of Provost Skene's House and the significance it has to those living and working in Aberdeen.
"The significant investment being made by the development partners to transform it once again into a facility to be enjoyed by everyone in the city is a testament to the importance the building will have.
"The works involved are in the supply of utilities to prepare the building for this new lease of life and there is absolutely no issue or danger involved with the foundations from this development phase or any of the earlier construction activities."