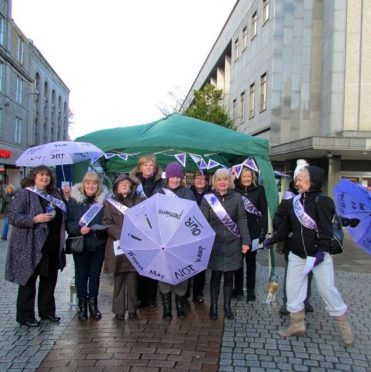 A group campaigning for equal rights for women staged a demonstration in Aberdeen city centre at the weekend.
Aberwaspis, the north-east's branch of the Women Against State Pension Inequality campaign, gathered in St Nicholas Square.
Their members oppose changes to the law which resulted in the state pension age being raised from 60 to 66 for women born after April 1951.
While not against the change per se, the UK-wide campaign argued many women were not given adequate notice of the new regulations.
The group also claims the legislation is prejudicial to women because they do not have the same access to occupational pensions as men.
Last night, Lorraine Rae, the group coordinator, said there had been a groundswell of support for the campaign locally due to the number of women being made redundant in the oil and gas industry.
She added: "It was a bit disappointing because we had been checking the forecast and it looked fine up until the day before.
"We had about 15 people turn up to help us and everyone tried hard to make it a success.
"We have known for a long time that there was a huge discrepancy between the number of women affected by the changes and those joining groups and signing petitions.
"There were a lot of women who were aware of the changes and were angry about them, but didn't realise they could do anything about it."
Since Saturday, the group has had at least five new members sign up. And now, the campaigners have been spurred on to take further action.
Mrs Rae added: "We hadn't held a public event before, but we are definitely going to try and get out there more regularly."