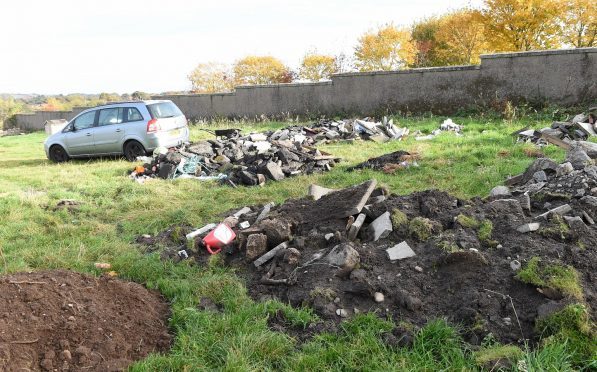 Aberdeenshire Council has agreed to create a special taskforce to deal with the region's most "problematic" travellers camps.
The local authority's gypsy-traveller sub-committee yesterday agreed to set up a multi-agency emergency management team following issues at sites in Fetteresso and Maryculter this year.
The group would bring together colleagues from the council's environmental health, housing, waste services and trading standards departments with those from housing associations, and the police and fire and rescue service.
A meeting of the team would be assembled when a group has "persistently breached" the council's code of conduct for gypsy-travellers sites.
A report which went before councillors said to date there had been "no formal way of dealing" with issues at "more problematic encampments".
The committee also decided against a plan to have a member of the gypsy-traveller community manage the proposed Aikey Brae stopover site, near Old Deer.
Councillors instead agreed the council should operate the site, should it gain planning approval.
They also agreed to a revised code of conduct for dealing with encampments and a new policy on managing them.
It comes after a mess branded "disgraceful" was left when travellers abandoned a unauthorised camp overlooking Fetteresso Cemetery, near Stonehaven, last month.
Similar issues were reported at a site in Maryculter earlier in the year, which yesterday was claimed led to "frictions" between the residents of the camp and locals.
Council housing spokesman, Alexander Macleod, said the taskforce would allow for "a means of dealing with more problematic encampments we have had".
He added a "small handful" of unauthorsied sites had "proved quite challenging over the summer".
Mr Macleod added: "It is really just capturing a formal approach that pulls in different resources (and) partners are able to bring."
Mearns councillor George Carr said there had been "quite a number of issues" with the camps in Maryculter and Stonehaven.
He added: "There was certainly a lot of policing issues at the one in Maryculter, with quite a number of code of conduct points that were not being adhered to.
"We have got to have a holistic approach to what we are doing to make it work."
Police Inspector Colin Taylor – who attended the meeting – said the multi-agency approach would be "a big step forward" for the force.
The multi-agency management procedure will come into play when a particularly serious breach of the council's code of conduct is committed or following persistent violations.
A meeting will then be called to "establish the facts" and decide if there is ground for concerns, before considering "options for action".
The council is hoping to create a stopover site for ten pitches at the disused quarry at Aikey Brae.
Yesterday minority ethnic communities officer, Moyra Stephen, said options to have the proposed site managed by travellers themselves had not been received well by members of the gypsy-traveller community.
She added: "The issues raised were that travellers travel, if we had someone resident on site, if it is a guy, he goes away working. Would we be managing a manager?"
She added the agreed option would involve the council "working together" with the travelling community.
Stonehaven councillor Graeme Clark, said: "In this case it is a stop over site, I think it is really got to be run by the council warden. I really don't think you can have a gypsy-traveller there because they wouldn't always be there."
Central Buchan councillor, Jim Ingram, blasted the "box ticking exercise" that had led to Aikey Brae being picked for a stopover site.
However he added the option to have it managed by the council was the "only acceptable recommendation" in the event planning permission is granted.
Committee chairman Allan Hendry said: "I think any gypsy-traveller site would have to be controlled by the council at all times."
Yesterday Mearns councillor, George Carr, claimed two dogs were run down and killed on the roads at an unauthorised traveller's site near Stonehaven earlier this year.
The Conservative said he had been made "aware of two dogs run over" on the road passing Fetteresso.
The camp was set up in a field next to the village's cemetery in August, before being abandoned in October – with a mess of bottles, bricks, bags of rubbish and even an abandoned car and a burned-out caravan left behind.
At yesterday's committee, Gypsy-traveller liaison officer, Jennifer Macrae, said the council's dog warden had been made "fully aware" of concerns at the camp.
Council officers also said there had been a rise in the number of unauthorised encampments in Aberdeenshire in 2015, and that they were most prevalent in Buchan and Kincardine and Mearns.
Minority ethnic communities officer, Moyra Stephen, said: "We must remember where gypsy-travellers pitch up is not necessarily where they want to be.
"Although we can map them they might not necessarily want to be there because there is no where else to go."