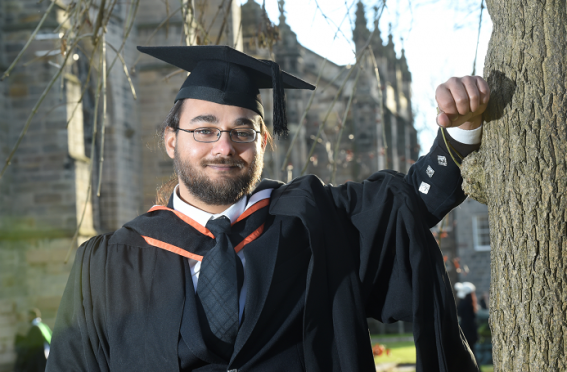 An international student is one of many who has fallen in love with the region's stunning landscapes.
Nicholas Jeerakun, who hails from Mauritius, came to study at Aberdeen University a decade ago.
Yesterday, the 31-year-old, who lives in Aberdeen, was awarded a masters in psychology and philosophy.
He was one of hundreds of graduates who collected their honours at Elphinstone Hall.
Speaking after the ceremony, he said he was already looking forward to his next challenge within the halls of the historic institution.
"It's like a stepping stone for me to go on to do a Phd, but it still feels great in itself," he said.
"I came to Aberdeen because it's close to the sea, it's a small place, and it's so easy to escape the city.
"I love hill walking in the Cairngorms and other places, I like cycling too, I've been all over Scotland, and I like having bonfires by the beach."
Mr Jeerakun finally completed his degree after taking a break for a number of years.
While his break meant was not studying, he was still spending his time at the campus, as a support worker for disabled students.
The job, which he still does part-time, involved assisting the students with their work and also helping them around the university.
"It's very rewarding," he added.
Mr Jeerakun, who was joined by partner Alena Ebinghaus and friend Kevin Mathew also volunteers at the nearby Becycle shop, which fixes up old bikes and lends them out for free.
His Phd, which he has still to apply for, will be based on neuroscience.