A north-east teenager who shot a security guard at a party in the US while high on drink and drugs is being sued along with a fraternity group for $5 million.
Daniel Magee opened fire on Edward Earls after a fracas at a property near the University of Texas in the city of Austin.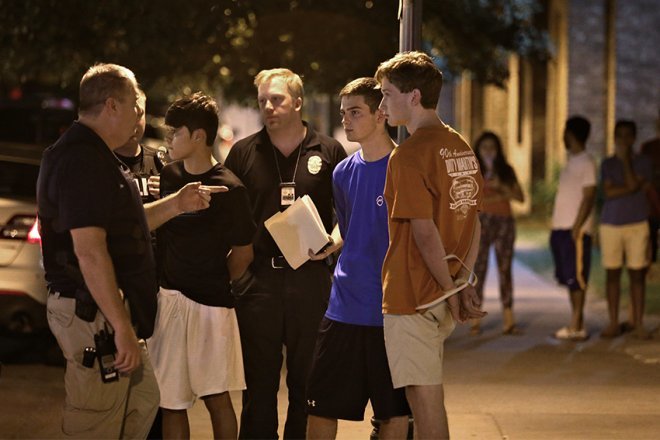 Mr Earls was shot in the foot and needed reconstructive surgery.
And now he has launched a huge damages claim – worth about £4million – against Magee and the Sigma Chi frat group, which was hosting a house party at the time.
Magee, who was aged 18 at the time, fled the scene but was later caught by police and jailed.
When officers searched the former Stoneywood Primary and Dyce Academy pupil's car and home, they discovered an AK47 assault rifle, although it is understood the weapon was not used in the incident.
In a lawsuit filed at Travis County State District Court, Mr Earls says his right foot will have to be amputated if a series of surgeries are not successful.
The lawsuit claims that Sigma Chi is partially responsible for his injury, and that Magee caused it by using a "deadly weapon".
The lawsuit says: "Defendant Daniel Hamilton Magee at all times mentioned in this petition, acted with the intent to, and did inflict, severe mental and emotional distress upon plaintiff.
"Magee knew that such conduct would subject the plaintiff to severe emotional distress.
"Magee's conduct was extreme and outrageous in nature, and so extreme in degree, as to go beyond all possible margins of decency, as to be regarded as atrocious and utterly intolerable in a civilised society."
Mr Earls is seeking $5million in damages, as well as court costs and "all other relief to which the plaintiff is entitled" from Mr Magee and the fraternity.
Magee, who police say admitted the shooting, is charged with aggravated assault with a deadly weapon – a first degree felony in the US.
In his original arrest warrant affidavit, it was revealed he had arrived at the fraternity party "heavily intoxicated" and on the anti-anxiety drug Xanax.
He was asked to leave but returned to the frat house with two roommates just under an hour later and shot Mr Earls.
Houston-born Magee moved between Texas and Aberdeen a number of times with his family due to his father's job in the oil industry.
It is understood the teenager attended Stoneywood Primary School until 2007, and in 2013 he studied at Dyce Academy.
He has already appeared in for a pretrial hearing, but his case has been reset for February 14.
He has also been freed from jail on $50,000 bail.
It is understood he has paid 10% of the bail money, and would have to pay the balance if he missed a court appearance.
A spokesman for Sigma Chi declined to comment on "ongoing litigation".
Magee's family in the north-east also declined to comment.