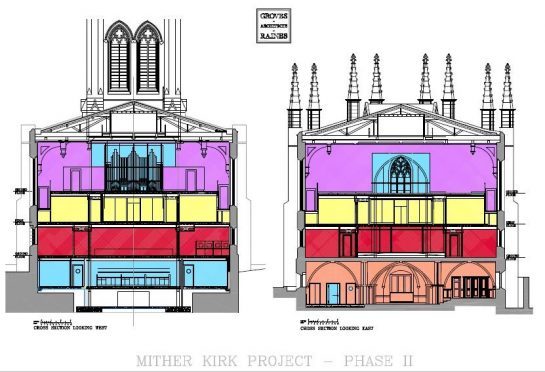 A senior councillor has insisted a £5.5million project to transform a historic church is "very doable" – but only if businesses help fund it.
Marie Boulton, depute leader of Aberdeen City Council, is a major supporter of the ambitious proposals to revamp part of the Mither Kirk.
Local authority finance chiefs are examining a business plan, drawn up by the charitable Open Space Trust which owns the disused East Church of St Nicholas.
Its blueprint involves the huge interior being transformed into four floors to show off the Granite City's history and unique collection of mediaeval burgh records.
Town house chiefs want the public to be able to see the archive – recognised by the United Nations as among "the world's most prized documentary heritage".
Councillor Boulton said she was "extremely excited about making it happen" and would push for some of the cost to be met by local taxpayers.
But she is wary of making any commitments with councillors facing tough decisions on how to spend very tight budgets in coming weeks.
She said: "We are in a very difficult climate at the moment, which is disappointing.
"We can't do it alone. I would appeal to the business community.
"I know things are difficult, but hopefully we'll turn the corner soon. What we can't afford to do is to allow all the hard work we have invested in this to fall back."
She added: "We need to be looking not just to the council to support this, but to business.
"While things are tight, there has to be a recognition that if they want to attract people of a certain calibre, there has to be a certain calibre of culture available."
Mrs Boulton said she was "particularly passionate" about the Mither Kirk project as a sister venue to Provost Skene's House – which is being turned into a museum to honour notable sons and daughters of the north-east.
The Open Space Trust believes revenue from a cafe and function space could make its venue self-sufficient within a few years.
One unnamed private donor has already given £100,000 and they and others are now being lined up to back the project financially.