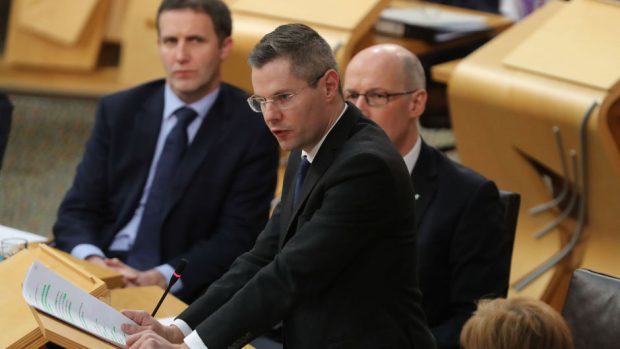 Aberdeen will receive the biggest budget cut of any local authority in Scotland – despite already being the lowest funded council.
Shock new figures reveal the Granite City will be squeezed almost twice as much as the average council in the country.
Opposition politicians said the analysis exposed the SNP's "empty rhetoric about standing up for the north-east".
The new figures come just days after Finance Secretary Derek Mackay announced an extra £4.5million for Aberdeen in his revised budget – cash he suggested should be used to tackle the business rates bombshell.
But Conservative MSP Ross Thomson said the "totally unfair" settlement for 2017/18 would see Aberdeen's budget slashed by almost 4.3% – almost double the Scottish average of 2.3%.
He branded Mr Mackay announcement last week as "simply less of a cut" that would do nothing to help businesses facing sky-rocketing rates of up to 200%.
He said: "These figures cut through the SNP spin and lay bare the reality facing Aberdeen City Council.
"Not only is Aberdeen the lowest funded council in Scotland, it is also receiving the biggest budget cut.
"The additional funding announced last week is simply less of a cut than previously planned, but it is still a cut and gaps in service provision will have to be filled."
As part of a backroom budget deal struck between the SNP and the Scottish Green party, Mr Mackay announced extra cash for every local authority in Scotland – equating to £4.5million of revenue spending for Aberdeen.
Local Nationalist MSPs suggested this money could be used by the local council to provide relief for firms facing potentially-crippling business rates increases.
But Mr Thomson said: "No other councils in Scotland were told that they would have to use the extra money to address business rates rises, but those in the north-east are expected to do so.
"This is totally unfair and proves that the SNP care little about Aberdeen, despite the empty rhetoric about standing up for the north-east."
A Scottish Government spokesman said: "The Scottish Government has treated local government very fairly despite the cuts to the Scottish Budget from the UK Government.
"Taking next year's local government finance settlement plus the additional £160 million announced on 2 February and the other sources of support available through the actual and potential increases in council tax income, and the support through the Health and Social Care Integration, the overall increase in spending power to support local authority services amounts to over £400 million or 3.9% in cash terms.
"Aberdeen's share of the overall increase in spending power to support local authority services amounts to an additional £12.7 million or 3.6% and Aberdeenshire £21.7 million or 5%."