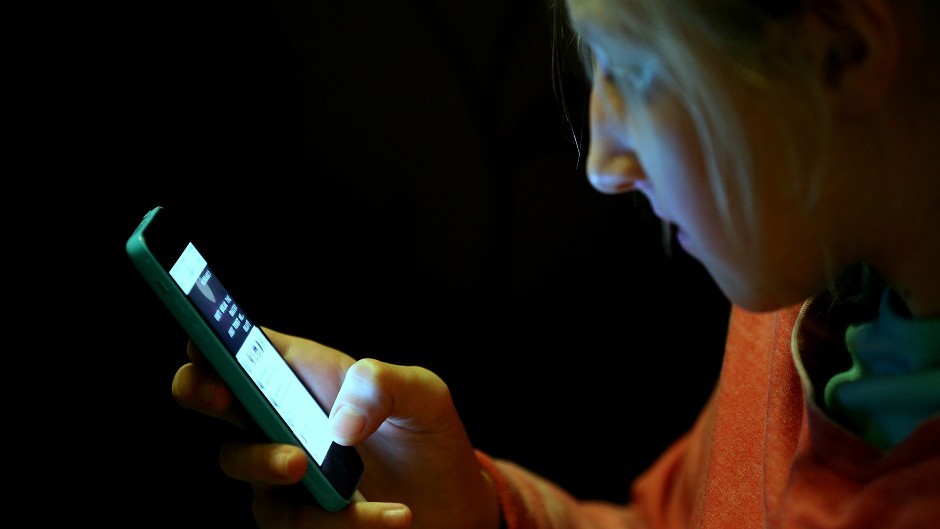 Sexual images of an 11-year-old have been shared around the north-east by older children after she was lured into sending a half-naked selfie.
The girl, and another Aberdeen primary pupil aged 10, were pressured to give in to indecent demands in a series of "vile" social media messages, their parents claimed.
Police Scotland confirmed that they were aware of the allegations and that an investigation was underway.
The 11-year-old's mother claims the photograph, of the girl in her underwear, was initially sent to one pupil at an Aberdeenshire academy but quickly spread.
Her daughter was physically sick when she realised the consequences – with almost 30 screenshots of the image apparently captured on mobile phones in just three minutes.
It is not clear how far it has since been circulated.
The younger girl, who is 10, came under the same pressure.
Child protection charities, social media experts and politicians united in a  caution to parents to make sure children were aware of the dangers.
The allegations came to light when the families contacted the Press and Journal in an effort to help other young girls avoid falling into the same trap.
Neither the girls nor their mothers can be identified for legal-protection reasons and in keeping with Press guidelines over children.
It is understood the picture was sent through smartphone application Snapchat, on which photographs vanish just seconds after they have been received.
To discourage people saving the images, the app alerts senders when recipients take a screenshot of them.
The mother of the 11-year-old said that through this feature it was discovered that in just three minutes, 27 people permanently made a copy of the compromising photograph.
The girl said she was asked to send the image by an older boy, and believed he would be the sole person to see it.
Today, she has bravely chosen to make an emotional plea for other youngsters to think twice before taking and sending sexual photographs of themselves.
She said: "Don't do it because other people do it, don't do it because anyone tells you to, don't do it to fit in, it's not worth it."
Her mother only became aware of what was happening when the parent of a pupil at the senior school told her she had seen the picture, she said.
Going through her daughter's phone, she said she then found multiple inappropriate messages from older boys.
"I feel sick to the bone," she said.
"My daughter wasn't happy about me phoning police, and she was physically sick because she knew she was in trouble.
"For my daughter and other girls her age to feel the need to do this, it's wrong."
She said her daughter was off the app – and other photo sharing technology – "for good".
"She really shouldn't have been on them at that age anyway. You never know who is behind an online message," she added.
The mother of the younger girl said: "The messages from the older boys were quite coaxing, they were asking for them to send them pictures of themselves.
"I'm absolutely mortified, because we don't know how far these images have gone."
The shocking incident comes at a time when concern over sexual exploitation and bullying of children online and via social media has never been higher.
Campaigners also fear boys' easy access to pornographic material which degrades women is badly affecting their relationships with girls.
Aberdeenshire East MSP Gillian Martin said the case had prompted her to sit down with her own daughter to press home the dangers – and encouraged other parents to do the same.
She said: "This is a serious issue and I commend the bravery of this young girl for coming forward and telling of her own experience.
"It is something my generation did not have to contend with and I think it is absolutely imperative parents recognise and understand the dangers of social media and the pressures young people face."
Robert Gordon University professor of communication and media Sarah Pedersen said it was "a very good example of why parents should be ever vigilant about their children's use of apps such as Snapchat".
"It also underlines the pressures put on young girls – and boys – to perform in a sexual way online. Parents need to talk to their children about the implications of being involved in the distribution of such images."
Local Inspector Gary Spark said: "Police Scotland has been made aware of an incident and inquiries will be carried out.
"Anyone with information is encouraged to contact Police on 101 or Crimestoppers on 0800 555111 if you would prefer to remain anonymous."
Aberdeen and Aberdeenshire councils said they were unable to comment because of the ongoing police investigation.