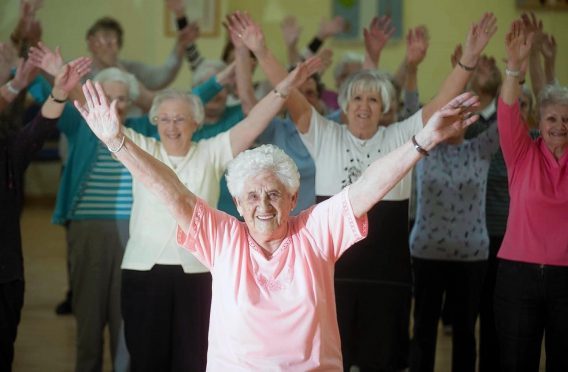 A super-fit 91-year-old woman is running keep-fit classes in her local church hall – all while looking after her 17 great-grandchildren.
Mabel Wheeler has been overseeing the unusual classes every Tuesday afternoon in Fraserburgh for the last three decades.
The majority of those who attend the lessons are in their 70s or 80s.
Around 30 people join in each week at the town's St Andrew's Hall to do a variety of standing and seated exercises.
Some of the exercises are also carried out while listening to wartime songs by Max Bygraves.
"As long as someone turns up, I'll keep going," she said. "We also do it to Scottish songs and, of course, we do Supercalifragilisticexpialidocious. We fairly sing, but there are a few who can do it better than others."
The former fish worker puts her vitality down to decades of splitting herring in the fresh air of the Buchan coast.
Mrs Wheeler has four children, 11 grandchildren and now 17 great-grandchildren. The youngest is only three-months-old.
Her class, Mabel's Keep Fit, is more than just an exercise class and many of those who join her each week come for socialise.
She said: "The class starts at 2.30pm but we get in just after 2pm to sit down and catch up on the news. We've all got aches and pains but we don't talk about that much – you just have to get on with it.
"It gets us out meeting people instead of sitting in the house. So long as someone comes, that's fine.
Mrs Wheeler donates all the money she collects as entry fees to the church funds. She also organises trips away for the group who have visited the Caledonia Canal, Royal Yacht Britannia and the National Museum of Flight.
The classes run from October until May at the St Andrew's Halls, taking a break for the summer.
Last night Mrs Wheeler's daughter Denise Duthie, 53, said: "She's something else. If we say don't do that, she'll do it. She forgets how old she is."