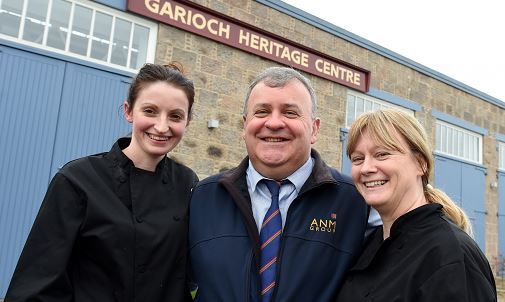 An Aberdeenshire heritage centre took a step closer to completion yesterday when it opened its cafe to the public.
The Garioch Heritage Centre in the old Loco Works in Inverurie has welcomed duo Fiona Grant and Sylvia Beaton as the new tenants of The Works coffee shop which was opened by The Mart star and local celebrity, Colin Slessor.
The building, which was bought and renovated by developer Malcolm Allan, has undergone a lot of remedial work and part of it has been given over to the heritage society to create a permanent museum.
Volunteer curator, Nora Radcliffe is hoping to fully open the centre in May and is planning the layout of the exhibition at the moment.
She said: "We have got two of Queen Victoria's dresses which will be a centre piece of the museum and many, many more items that we are currently trying to catalogue and label.
"We will also have sections from Tait's paper mill in Inverurie and we will have a paper-making section for school children to try out."
Mr Allan was on hand to witness the latest stage of the building and said: "It has taken a long time to get here – six years ago, I decided to renovate the building as I wanted people to be able to look back on the days of steam trains.
"This area used to house a lot of skilled tradesmen and it is rich in history – I thought if I can afford to, then I should do it."
Mr Slessor was invited to cut the ribbon and also had time to auction off some prizes for Friends of Anchor.
He added: "There's not many tourist attractions in Inverurie – the only other famous one I can think of is The Mart."
The Works will be open Tuesdays to Saturdays from 9am to 4pm.