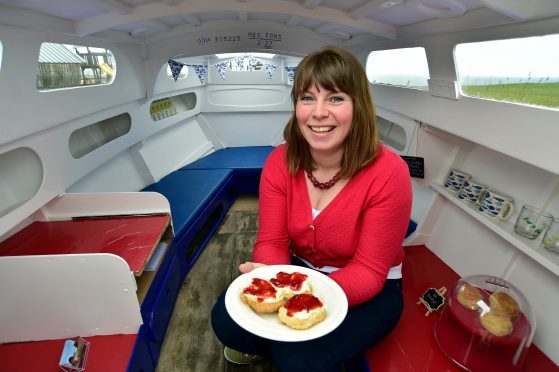 Tourism is surging along the Banffshire coast and visitors to the area have now been given the chance to sail the high teas and promote a grand old Doric tradition.
A new coffee shop to cater for travellers on the Fraserburgh to Banff route has opened at a "glamping" site.
Carol Short and her farmer husband, Matthew, currently run the Down on the Farm accommodation business near Rosehearty.
But now, the pair, who already manage holiday accommodation in a former carriage and a harvest hut, have hauled a disused yacht into the garden to serve as a catering spot.
The Teas and Seas venture will offer cream teas to guests and visitors and Mrs Short said: "Our guests often report that they find a lack of facilities in our area for food and drink.
"On certain days and months of the year, you can travel from Fraserburgh to Banff along the coast and not be able to get even a cup of tea."
She added that, given the "collective efforts" being made to attract new tourists to the region, catering to visitors would benefit the industry as a whole.
The pair are also trying to promote the Doric tradition of a – a north-east afternoon tea.
Mrs Short said: "Farmers would have made time for a quick cup of tea and home bake, often taken standing up, in between their work to tide them over until their dinner or supper.
"Back then, it was a fleeting occasion, but having a fly cup now is entirely more indulgent."
The yacht is open daily for passers-by and pre-arranged bookings.