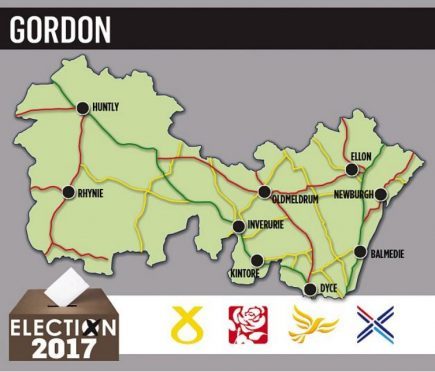 On the day Labour candidate Kirsten Muat was born, Malcolm Bruce was just starting his third consecutive term as MP for Gordon.
By the time she was old enough to vote, the veteran Liberal Democrat had completed his sixth and chosen to retire.
For three decades the other main parties made do with sharing the honour of being runner-up to him in one of Scotland's most prosperous constituencies.
Just two years later however and the picture is unrecognisable, constitutional tumult having given the political kaleidoscope several vigorous twists.
First the brutal interruption of 2015: Alex Salmond harnessing his own reputation and the national SNP tsunami to storm to a convincing victory.
Then the sudden re-awakening of the Scottish Conservatives as a credible force, a generation since they last mounted a serious threat in Gordon.
At the last general election, Ruth Davidson's party received fewer than a third of the support of the Lib Dems, coming in a distant third.
Now she is prepared publicly to count the former first minister among the prized scalps her party hopes to take on June 8.
The Tory claim to be "parking our tanks on Alex Salmond's lawn" was bolstered by a strong showing in last month's local elections.
Internal analysis suggests they won the most first-choice votes in the area.
And candidate Colin Clark's leaflets make no bones about pitching the contest as a fight over independence – local issues getting no mention as he takes on the man more associated than any other with the push for a break with the UK.
The constituency is an unusual mix of urban and rural, joining several parts of the north of Aberdeen with swathes of neighbouring Aberdeenshire.
Granite City suburbs of Bridge of Don, Danestone, Bankhead and Dyce are home to about a third of its voters, with many of the others in commuter towns such as Inverurie, Ellon, and Kintore, and beyond to Huntly.
Some voters will no doubt weigh carefully which party offers the best prospects of the area – traditionally one of the country's most prosperous – recovering quickly from the dramatic and ongoing effects of the oil and gas downturn.
Recruitment crises in schools, hospitals and care homes are a major concern and poor transport links have long been a bugbear.
The Lib Dems remain defiant, local hopeful David Evans insisting that voters only backed the Tories in May "holding their nose" and that support for the SNP is "on the wane".
Bookmakers are unconvinced by his "clear challenger" claim however – several offering odds as long as 33/1 on a Lib Dem victory.
And while a Tory win is ranked as a healthier 7/2 shot, most regard the prospect of a second term for Mr Salmond as an odds-on near certainty.
In full: The candidates
Liberal Democrat candidate David Evans insists support for the SNP is 'on the wane'
Conservative businessman Colin Clark says the contest is over
independence
Labour hopeful Kirsten Muat is a student out to make a difference
SNP candidate and former first minister Alex Salmond faces a fight
2015: Gordon flashback results
Alex Salmond, SNP, 27,717
Christine Jardine, Lib Dem, 19,030
Colin Clark, Conservative, 6,807
Braden Davy, Labour, 3,441
Emily Santos, UKIP, 1,166