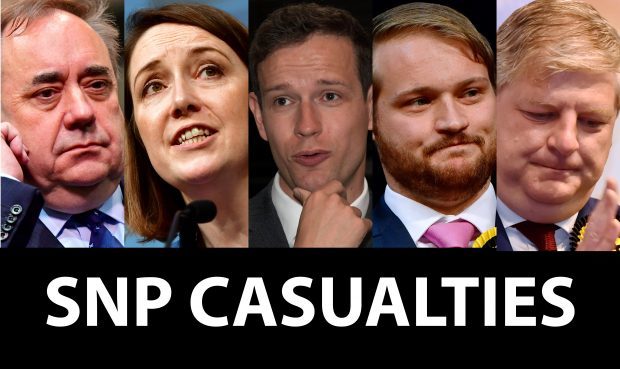 The SNP experienced a heavy defeat today as the Conservatives almost swept the board in the north-east.
The first shock defeat of the night came in Moray when Angus Robertson lost his seat to Conservative candidate Douglas Ross.
It comes just days after pollsters predicted Mr Robertson was on course to lose the seat, with the Brexit voting constituency ousting the veteran politician largely over his pro-EU stance and support for a second independence referendum.
SNP depute leader Angus Robertson had been an MP since 2001 and was defending a majority in Moray of nearly 10,000.
But MSP Mr Ross took the seat, thanking the former incumbent for his service to constituents during his career. In defeat, party grandee Mr Robertson said: "It seems to me there's a lot of change going on. People are seeking answers to the complex questions that we all face."
Just a few hours later, the Conservatives were celebrating again, this time ousting the SNP's energy spokesman Callum McCaig.
MSP Ross Thomson claimed the Westminster constituency.
Stuart Donaldson also walked away defeated by Conservative Andrew Bowie in the West Aberdeenshire and Kincardine seat.
Mr Bowie, a former officer in the Royal Navy, currently works at the Scottish Parliament as head of office for Liam Kerr MSP and who has also served as a rural affairs advisor and parliamentary assistant to Ian Duncan MEP in Brussels
Then, at around 4.30am, after hours of speculation, former first minister Alex Salmond lost his seat to Conservative candidate Colin Clark.
Mr Salmond, the SNP's foreign affairs spokesman, had swept to power in the seat with a 8,687 majority in 2015, overturning decades of Liberal Democrat rule.
This morning, Mr Clark, who was recently became a councillor in the local authority elections, won with 21,861 votes. Mr Salmond got 19,254, followed by Labour's Kirsten Muat with 6,340 and David Evans from the Liberal Democrats with 6,230.
The final blow of the night came from Banff and Buchan when David Duguid won with 48% of the vote.
He defeated the SNP's Eilidh Whiteford, who he has known since school, taking the seat away from the party for the first time in 30 years.
Speaking from the Glasgow count, First Minister Nicola Sturgeon insisted the result was a win for her party, although she conceded she was bitterly disappointed by the losses.
She said: "We've won the election in Scotland so we're very pleased about that and I think we're going to end up with more seats than all the rest of the other parties combined.
"We're coming from a position where the SNP had more seats than we had ever had, but there have been losses and all of them are bitterly disappointing.
"Some of them personally so — Angus Robertson has been such an outstanding leader for us in Westminster.
"Alec is not just a colleague but a friend of mine and has been all through my political career.
"He has been an outstanding MP, an outstanding first minister and I will make a prediction we have not seen the last of him."
Ms Sturgeon admitted the results meant she would have to put her calls for a second independence referendum on ice for a period.
She said: "Of course, a period of reflection is necessary and we will look at all aspects.
"It would be wrong to rule anything out, but equally I'm not going to rush to judgement because this is something that has not yet had the benefit of a period of analysis.
"Some independence supporters will have voted for Jeremy Corbyn, so to draw simplistic conclusions about independence would be wrong."
Despite the UK Labour party sticking to its pledge not to go into coalition in Westminster, Ms Sturgeon said there could still be an opportunity to work together in a progressive coalition.
She said: "If there's a way of doing  that I would like to be  in a position where we're exploring those options.
"If the arithmetic lends itself to that, I would want us look at being part of that.
"If that is possible then, yes, these are discussions and conversations I would want to have, but we will have to see how the final numbers shake out."