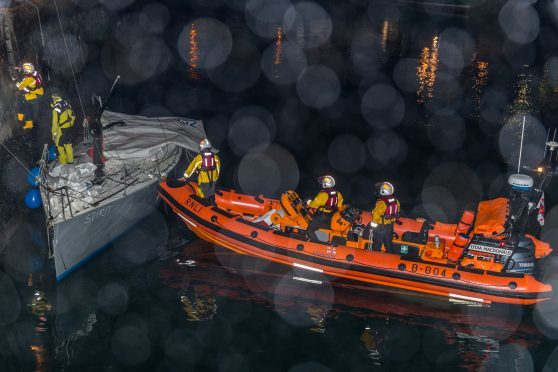 An investigation has been launched after a fishing boat and yacht collided near the mouth of a north-east harbour.
The tiny Dutch yacht Spirit was four miles off Macduff when it was in collision with Fraserburgh-registered trawler Orkla shortly before 5am yesterday.
Coastguard and lifeboat crews were immediately scrambled, and the yacht was towed back to Macduff harbour.
The 22ft Orkla – operated by Peterhead firm Caley Fisheries – continued on to Fraserburgh and raised the alarm. But last night, it was still unclear how the two vessels had hit each other.
A spokeswoman for HM Coastguard said: "Macduff RNLI lifeboat and Banff coastguard rescue team were sent.
"The yacht was towed to Macduff harbour, and the fishing vessel was able to make its own way to Fraserburgh. The incident is now the subject of an investigation and it would be inappropriate to comment further."
She added that depending on the nature of the incident, it could "potentially" be investigated by police.
A spokesman for the Marine Accident Investigation Branch (MAIB) said: "We are aware of the incident and are conducting a preliminary assessment.
"This means further details are being obtained to establish whether or not further investigation is warranted."
The owners of Caley Fisheries were not available to comment on the crash last night. Its boat, which showed damage to its front from the crash, was left unattended at the harbour.