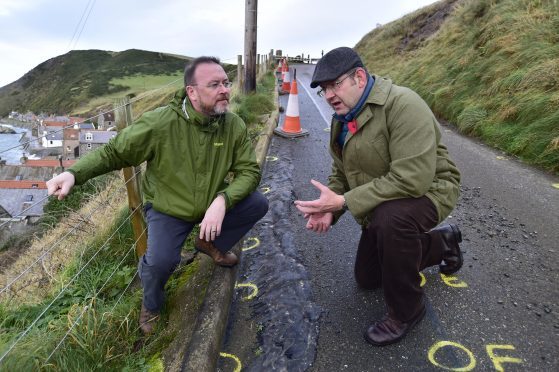 An MP has called for landslips to be handled at a national level following fresh woes in the north-east.
David Duguid visited Crovie yesterday at the invite of local councillors following a fresh slip in the community which has resulted in a road being closed until next year.
The C37L Bracoden to Crovie route has been shut on the advice of Aberdeenshire Council engineers after a section of it gave way in heavy rain.
It first began showing signs of wear back in January.
And yesterday Mr Duguid said communities across the region were suffering.
In Sandend, where homes risk being washed away because of a landslip near the harbour, residents are currently considering footing the bill themselves to fix the issue.
"Just a few weeks ago, I was at Sandend, where a large landslip is causing a serious problem for the local community," he said.
"I knew at the time that this was an issue that extended far beyond one particular village, however.
"There are coastal erosion problems all along the coastline of my Banff and Buchan constituency, including at Port Rae pier in Rosehearty, Palmer Cove at the mouth of the Deveron and another recent landslip at Portknockie.
"Very often, it will fall to the local council or private landowners to act, but I think we need to approach this as a national issue.
"Coastal communities all over the UK will have similar issues and we need to explore ways in which towns and villages can access funding to help combat the problem of erosion and protect local residents."
Aberdeenshire Council hope to have the road opened at Crovie in spring.
Philip McKay, the council's head of roads, said: "We are progressing plans to address the problem as quickly as possible and will aim to keep the community informed of progress towards reopening the road to vehicles."