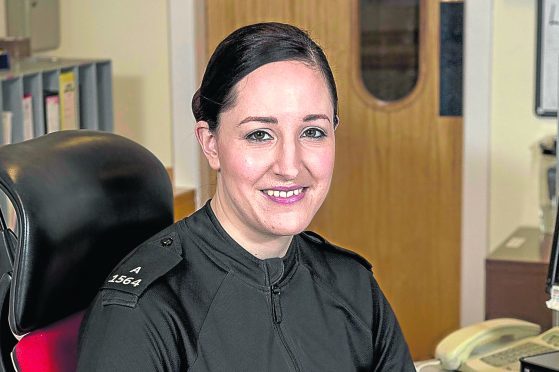 A north-east police officer who battled in vain to save a teenager who died in a car crash has been nominated for a bravery award.
Constable Carolyn Wright and five of her colleagues managed to save Amy Duguid but big sister Kirsten later died in hospital after the car they were travelling in plunged into a burn last December.
The Meldrum Academy pupil, from Methlick, became trapped when the Audi A3 they were travelling in left the road and overturned at Mains of Arnage, near Ellon.
Tributes paid to Aberdeenshire teenager killed after car crashed into burn
Kirsten was freed from the vehicle and taken to Aberdeen Royal Infirmary but could not be saved when the tragedy happened last December.
Now the group have been nominated for bravery awards at a Scottish Police Federation Bravery ceremony this week.
Constable Wright, who had only been a frontline officer for a year when she was called into action, said: "I've got mixed emotions. It's nice to have a pat on the back but a girl died and I don't want to feel like I'm benefitting from it.
"We tried our best, it's very sad. In another sense I'm proud we did the best we could that night.
"We were effective, efficient and I'm proud of the job we did – it was just such a shame we never managed to save the wee lassie."
On a night of thick fog, Constable Wright leapt into the icy waters to rescue the two girls alongside colleagues Andy Sawyers, Kirsteen McArthur, Calum McDougall, David Ritchie and John Grant.
The officers were struggling to open the car door but the quick-thinking constable remembered she had a crow bar in her police car.
She managed to save 12-year-old Amy by wrenching open the car door but their relief was short-lived as they realised the older girl was still trapped inside.
Eventually they managed to free her and performed emergency first aid at the scene but she later died in hospital.
In a statement, Kirsten's parents Gary and Lianne Duguid said: "We would like to thank all of the police involved for their bravery shown.
"Their efforts putting others before themselves is highly commendable and resulted in saving our daughter's life."
The awards will be held in Edinburgh on Wednesday night.