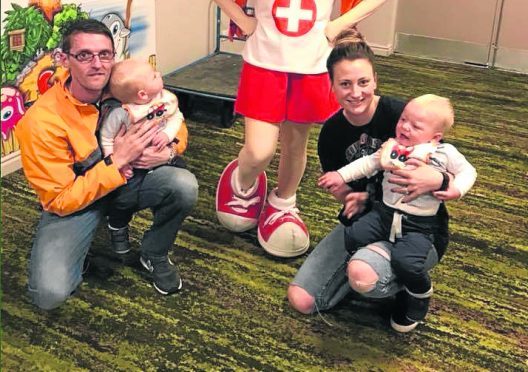 A north-east mum claims she was forced to change her twins' nappies on her plane seat after she was stuck on an aircraft on the runway for almost five hours.
Elaine Watt from Fraserburgh was making her way out to Perth with her 16-month-old sons, father and stepmother to join her sister for a dream festive holiday.
The 33-year-old was strapped in on a flight to Abu Dhabi last Monday only for it to be cancelled after four-and-a-half hours on the runway at Amsterdam's Schipol Airport.
She asked a flight attendant if she could go to the toilet to change her children but claims she was told she was not allowed to use it for safety reasons.
Her oil worker husband Steven Watt, 39, said: "My wife ended up having to change both twins' nappies on the floor while she was still in her safety belt, so a high percentage of the passengers on the plane could smell the soiled nappies.
"Some customers were complaining about it."
Mrs Watt said: "I was denied basic human rights with my children as I wasn't allowed milk and toilet facilities for four and a half hours while the plane sat on the runway with the seatbelt signs on.
"I was left crying as my children were upset."
The mother said was also not given a replacement pram to use for her children after her own one was checked in.
The five travellers were forced to shell out hundreds of pounds for a taxi and a hotel in the Dutch capital as well as for replacement plane tickets when they missed their rescheduled flight the next morning.
She arrived in Australia without any clothes, formula, toys or Christmas gifts but had already spent around £1,300 on replacements before her luggage was eventually found.
The couple have lodged a formal complaint with KLM.
A KLM spokesman said: "Due to adverse weather conditions in Amsterdam KLM was forced to cancel or delay a number of flights.
"KLM will reimburse the family for their accommodation and other expenses due to the flight cancellation, as well as the extra tickets purchased.
"It is always our intention that our passengers have a comfortable journey on any of our flights, therefore it is unfortunate to hear about the Watt family's experience at check-in and on-board."