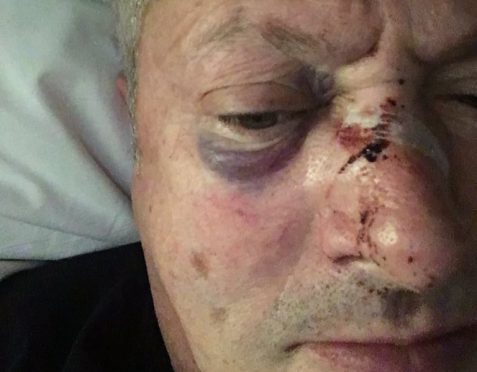 Michelin star chef Nick Nairn has received overwhelming support after being attacked in Aberdeen city centre last night.
The TV star was assaulted by two men leaving him unconscious on the pavement in Union Street.
After sharing a picture of his injuries on social media, users including Richard Lochhead MSP, sent him messages of support.
Awful! ? Hope they catch them and that you get well soon!

— Jen McIntosh (@JenMac600) December 22, 2017
@AndrewFairlie1 Appalling. Hope you make a speedy recovery and they catch these thugs quickly.

— Joan McAlpine (@JoanMcAlpine) December 22, 2017
That's terrible, i hope your ok chef and getting medical care, dont just brush off head injuries. and i hope you catch the scumbags .

— mark greenaway (@markgreenaway) December 22, 2017
Truly awful Nick – hope they get caught and wishing you well with your recovery. Someone somewhere must have seen them and hope they contact @policescotland.

— Richard Lochhead (@RichardLochhead) December 22, 2017
My god! Heal up!

— Finlay Wilson (@Scottishyogaboy) December 22, 2017
Get well soon Nick, society is going to pot!

— Richard Hunt (@RichardHChef) December 22, 2017