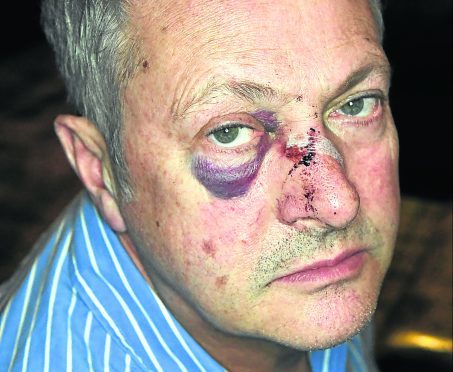 Celebrity chef Nick Nairn has told of his shock after being left out cold with blood pouring down his face following a brutal city centre attack.
The TV star was assaulted after walking past two men, and was left unconscious on the pavement in Union Street in the early hours of yesterday.
The 58-year-old, famous for appearing on Ready Steady Cook and Wild Harvest, was heading back to Malmaison Hotel with PA Julia Forster after a stopping off for drinks at his pizza bar in Back Wynd when he was set upon by the thugs.
Celebrity chef Nick Nairn receives overwhelming support following attack in Aberdeen
He said: "The pizza bar had just had its best ever night so we were sitting with the guys and had a couple of bottles of wine.
"At about 1am we went out into Back Wynd. There are normally taxis outside but there were none so we thought we'd just walk back to Malmaison.
"We got about 40 or 50 yards along Union Street and two guys in their 20s walked past us. They said something and I think I made a smart Alec remark, nothing aggressive. One of them must have turned around and whacked me right in the face. It knocked me off my feet and I landed on my backside. There was blood everywhere. It was pouring down my face.
"I looked up and saw Julia whacking this guy with her handbag. A couple of other guys ran towards them and they ran off."
Mr Nairn thanked passers-by who came to help and put him in the recovery position until paramedics arrived.
He said: "The transition from being cold on the floor and covered in blood to being put in the back of the warm ambulance was very quick.
"I'm fine though.
"I've been in some of the most dangerous cities in the world, but I've only ever been punched in the face on Union Street."
Investigating Officer constable Alan Gordon said: "With festive celebrations ongoing Aberdeen city centre was busy with people out socialising. I would ask that if anyone saw this incident to contact us. In particular, we believe two males wearing black jackets and jeans may have information that could assist us with our enquiries.
"Anyone with information about this incident is asked to contact Police Scotland on 101."