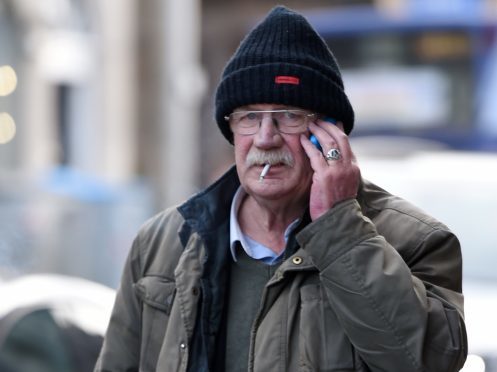 A retired policeman claims that he sexually abused young boys he coached at football because the environment in the force made it impossible for him to come out as gay.
Ian Jolly, 70, was led from Aberdeen Sheriff Court in handcuffs yesterday after being sentenced to 27 months in prison.
The pensioner previously admitted a string of seven "depraved" offences against three boys, which took place between 1987 and 1998 at addresses in Aberdeenshire.
But defence counsel, David Moggach, pleaded for his client to be spared prison.
He said: "At the outset of the period in question, the accused was a serving police officer, and he experienced anxieties and stresses relating to his sexuality.
"The police environment then was not very supportive of someone in that position."
The lawyer said Jolly was "often lost in the mists of alcohol" as he turned to drink to cope.
Mr Moggach added: "That led him to make decisions that were clearly wrong, and in later years he knew that his past would inevitably catch up with him.
"He has now lost his family, friends and any standing he had."
During a hearing last month, it emerged that one of the victims contacted the police in late 2016 after the national football abuse scandal came to light.
Jolly admitted charges of "using lewd and libidinous practices" by performing sex acts in front of one boy, while inducing him to do the same, and of touching two others inappropriately.
The court heard that social work reports identified Jolly as now being at a "low risk of reoffending".
But Sheriff William Summers was unmoved by Mr Moggach's pleas for leniency.
He said: "This was a catalogue of depraved abuse on young boys over a long period.
"It was an abuse of a position of trust, and a prison sentence is the only way to recognise the gravity of these offences."
The accused, who most recently lived on Minty Street in Edinburgh, was also placed on the sex offenders register for the next 10 years.
He was employed by Grampian Police at the time of the offences.
A police spokesman said: "We are committed to thoroughly investigating all reports of child abuse, regardless of where or when this occurred and regardless of who was involved."
Speaking after the sentencing, Andy Shanks, Procurator Fiscal for Grampian Highlands & Islands said it showed "that justice can be achieved after many years".
"We strongly encourage anyone who has been a victim of any such offences to report this to the police, even after a significant passage of time, and they can be confident that they will be treated with the utmost professionalism and sensitivity by the police and our expert prosecutors."